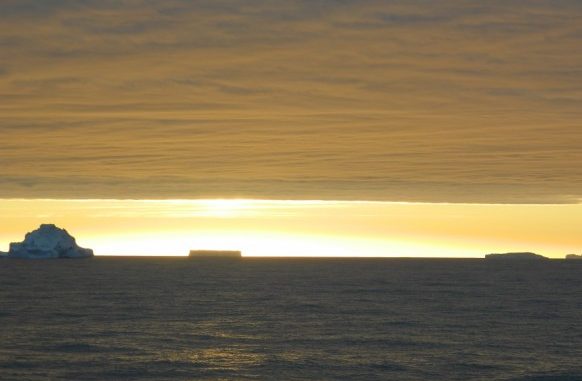 Past midnight, I was in my cabin  trying to catch some sleep, suddenly I heard a loud voice, "see midnight sun…." Really! I mumbled. Immediately got up, took my camera, wore woollens overlapped with wind jacket and dashed for open deck on fifth floor. And to my amazement midnight sun was shining, indeed. Though clouds were acting spoilsport still I did see sun shining brightly in horizon. I wasted no time and quickly captured various images of sun playing hide and seek behind thick clouds.
I was so delighted, patted my back saying, "Indu you are not just in continent Antarctica, you are also in Antarctic polar circle where sun never sets in summer. This is polar day in front of you."
I spent whole night watching phenomenal sunlight and sealing different hues of sunlit  Antarctic landscape in my camera. I was ecstatic
Now, to be more specific, sun does not set for six months in Antarctica. That means six months of sunlit Antarctica.
There are just two seasons in continent Antarctica, summer and winter, six months each. I got curious to know more about sun position in Antarctica, I delved in bit of research. I found that Antarctic seasons are caused by tilt of earth towards sun. Antarctica is on that part of earth that is tilted towards sun during summer, thus continuous sunshine for six months. And in winter, continent Antarctica is tilted away from sun, thus absolute darkness for six months.
I had felt bright light, day and night, since my ship crossed Drake Passage. I had hard time, managing sleep. Similar was the case with my fellow travelers. My cabin had thick curtains on window, still light filtered in. My sleeping hours were drastically reduced due to daylight stretching through night. And little sleep was possible only by covering my face with blanket. But I never imagined in wildest dream that I will witness the midnight sun. I was ecstatic.
MY ANTARCTIC ODYSSEY continues ….