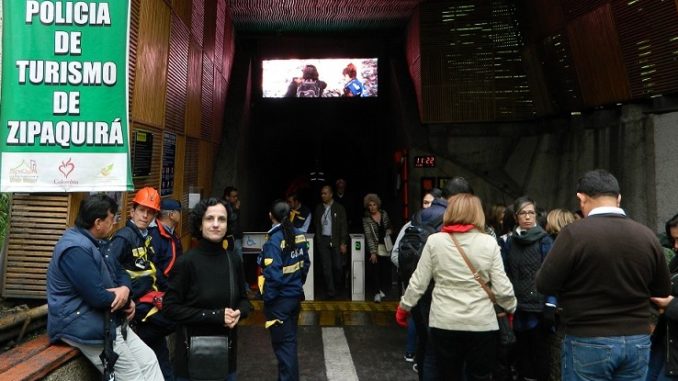 One of the seven wonders of Colombia. Jewel of Colombia. Architectural wonder of Colombia. 
I had been reading and hearing immense tributes for the famed Salt Cathedral of Columbia, in South America. I got so intrigued to get the feel of magnificent destination.
A holy church sculpted within a salt mine. Mesmerizing depiction in halite mountain. Running through a maze of underground tunnels in mammoth salt mine, this divine wonder recreates Jesus life.  Whole experience comes alive. This proved to be deep spiritual and emotional journey. I would rather say soul stirring for me.
It is said that much before Salt Cathedral inauguration in 1954, miners had built a church in the mine and used to pray there for their safety. Even Salt Cathedral  was closed for public sighting the safety issues. In 1991 construction for the new cathedral started after incorporating safety patterns in structural design. This was undertaken 200 ft below old cathedral. Present day cathedral was opened in December 1995. Revolving around mammoth columns of rock salt this cathedral is divided in multiple stations. These stations represent the last journey of Jesus.
Salt Cathedral is part of salt park which houses salt dome, museums, geological display galleries, light and sound shows and auditorium portraying history of salt mines.
There is entry fee to visit Salt Cathedral. At regular intervals visitors can enter the cathedral which is restricted group wise with limited numbers. Each group is escorted by guides proficient in different languages to narrate the depictions inside.
Salt Cathedral is located near town Zipaquira, at around 50 km from Bogota. This is one of the most popular destinations in Colombia. Apart from private cabs, shared cabs are also available if booked in advance with some agency.