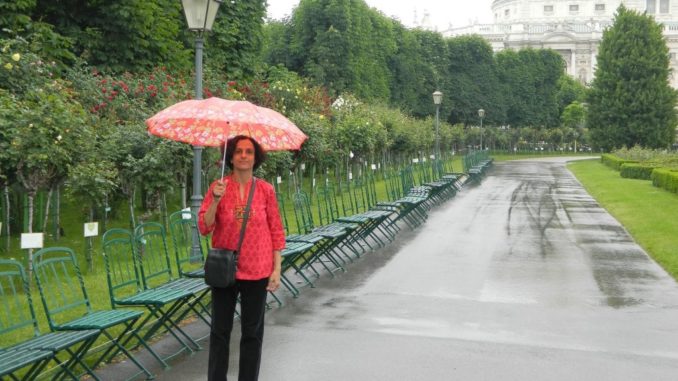 In Austrian capital Vienna, you feel Music, literally, in the air. I myself experienced this feeling when I went to a live concert. The legacies of the immortal music of Mozart and the waltzes of Johann Strauss have termed Vienna as the music capital of the world.
The centuries old musical tradition and the imperial flair of Vienna have left their mark in the city. The historic center of Vienna has been added to  UNESCO's World Heritage list. Historic center  has magnificent architectural ensembles which include Baroque castles, Imperial Palace, St. Stephen's Cathedral, gardens and Ringstrasse lined with many monuments and parks.
When I ventured out to explore the city, it started drizzling intermittently. Luckily, I was carrying my umbrella and I decided to take up lot of walking tours, which I enjoyed immensely. I did a walking tour of historic center and was thrilled to be a part of Vienna's heritage.
I strolled in Volksgarten  adorned with temples, fountains and rose garden where 400 varieties of roses bloom. More than half of Vienna's metropolitan area comprises of green spaces. No wonder Vienna  has been chosen the most livable city in the world, for many years in a row
To get the feeling of the powerhouse of Austria, I sneaked into Austrian parliament. Its magnificent architecture with rich artistic details made me forgot for a moment that I was entering a very sensitive area and I have to be careful.
One comic situation, I will like to share with you is, that I went to a shop to purchase souvenir and I saw huge pictures of kangaroos on some souvenirs with caption kangaroos in Austria. For a moment I got confused whether Kangaroos are found in Austria, too. Before I would react I saw word 'no' tucked in. When I enquired, the shopkeeper described few instances when tourists would confuse Austria with Australia and they would enquire about Kangaroos. So, that is how  they came up with the idea of such souvenirs which were quite popular amongst tourists.
I will give befitting tribute to the city, ' Vienna is ancient, Vienna is modern, Vienna is green'.
Other than that, one special mention I would like to attribute to the city is that  'Vienna is different'.
Vienna is different in its architectural contributions. But its best unconventional  example is Hundertwasser House, which is a low cost housing block, yet a wonderful showcase of Hundertwasser design, with trees and shrubs jutting out into the balconies and terraces is a treat to the eyes.
Hundertwasser House is the weirdest thing not to be missed in Vienna. Some may find it odd, but this is one of the architectural delights of Vienna, designed by Friedensreich Hundertwasser, the famous Austrian architect.  Born in Vienna, Friedensreich Hundertwasser, although  controversial, became one of the best known contemporary artist by the end of 20th century. His works reflect his prominent individual touch, rejecting straight lines and use of bold colors. He is widely acclaimed for his revolutionary designs that consist of irregular forms in his building designs which incorporate natural features of landscape.
One more thing which stands out in Vienna and makes Vienna different  is the way they serve coffee. Its variation in coffee amazed me. I read a signboard 'there is no coffee in Austria'.  When I enquired, I got my answer,"that is true".  If you just order for a coffee in a café, waiter will look at you strangely. Ordering and serving coffee is sort of an art in Vienna. You have to order specific coffee out of more than dozen specialities like Melange, Café latte, Eiskaffee, etc… I ordered Mokka coffee with lot of sugar as I like it more sweet.
I sum up saying; Vienna is ancient, Vienna is modern, Vienna is green. And Vienna is the city I would love to come back, in future, to stay longer and to explore more.
VIENNA TALE CONTINUES IN NEXT POST…..