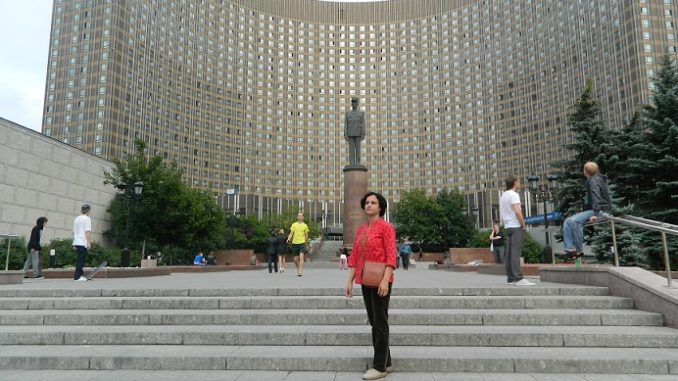 World's first satellite into space. First animal into space. First human into space. First manned space flight. What a legacy. Russian space explorers were truly the Conquerors of Space.
While exploring the soaring monument to the Conquerors of Space, in Moscow, Russia, I felt privileged when witnessed the treasured glory of the originators of space era.
Monument to the Conquerors of Space towering high in Moscow's skyline, symbolizes the pride of Russia. Built of titanium, the obelisk (obelisk means tall pillar set up as a monument) is around 100 mt high. The obelisk is topped by a rocket pointing upwards as if ready to shoot into space. The space monument was erected in year 1964, commemorating the launch of the Sputnik, world's first satellite into space. Precisely, the dawn of space era. Imposing statue of Konstantin, considered the precursor of astronautics, is located in front of the obelisk. At the stone base of the monument is inscribed one beautiful poem in Russian language, depicting the emotions of gratitude.
The space monument is located just at the main entry to All Russia Exhibition Center of Moscow, near Prospekt Mira. This area is famous for the space themed sights and well connected with all modes of transports.
Right below the space monument at the base, there is the Memorial Museum of Cosmonautics. The museum opened in year 1981, celebrating the 20th anniversary of cosmonaut Yuri Gagarin into space. He was the first human into space. Visiting Memorial Museum of Cosmonautics was like me in a journey to space exploration. Tracing space technology, then the personal belongings of Gagarin, that was indeed a rewarding experience. While watching display of the first dog into space. I was in awe of that adorable soul named Laika, would rather say cosmonaut Laika.
Coincidentally, monument to the Conquerors of Space, was just across the road from my hotel. So other than visiting space monument, closely, I was relishing the glorious view of monument all the time from my room window.
While writing this I feel nostalgic and amazed at the unparalleled feat Russian space explorers achieved. Not only their nation, whole world is proud of them.