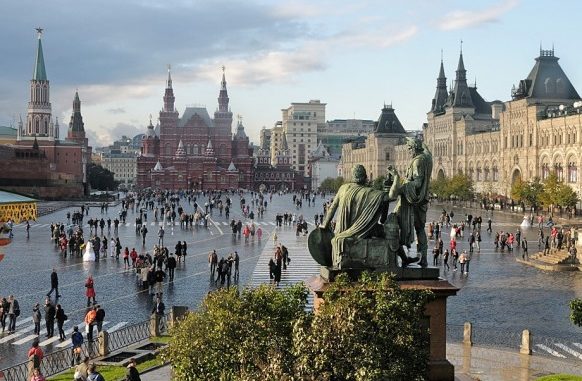 While stepping on Red Square in Moscow, Russia, I could sense the power, Red Square denoted during Soviet era. I felt history being unfold in front of me. I was reminded of the majestic Victory Parade gracing the Red Square, after defeating Nazis in World War ll.
Red Square, the pride of Moscow, holds the glory of Russian heritage on its chest that earned it the prestigious status of  UNESCO World Heritage Site.
Red Square is the prominent site of Moscow as iconic Russian landmarks surround Red Square. Famed St Basil's Cathedral and Kremlin magnify the panoramic beauty of Red Square. Being fond of walking, I spent long hours in exploring the vast Red Square, getting merged in surging crowds, appreciating artworks and mixing with locals.
While roaming around Red Square, I noticed many newly weds having fun at the Red Square. I got inquisitive and when enquired I was told that all merrymaking out there, was part of a set tradition. After the civil ceremony, the official part of marriage, it is customary in Moscow for bride and groom, to have a tour of prominent sites in city. And they do it with style. Along with family and friends, newly weds move around in Limousine, over the champagne and incessant clicking. I was delighted knowing this crazy custom. And myself, too, cherished the moment when I became a part of the on going enjoyment and getting clicked with one pretty couple.
Mausoleum of Lenin is also a part of Square complex. Though there were long queues to the mausoleum still I was not deterred from visiting the Lenin's tomb which kept embalmed body of Lenin. I had read Lenin during my masters in political science so my curiosity grew to see how he looked like. True to what I had heard, I found Lenin's body so well preserved and lifelike that it was hard to believe he was not alive.
Red Square remained the venue for impressive military parades, showcasing the might of Soviet armed forces, to the world. In present Russia, after USSR collapse, the significance of Red Square remains same as of the power center of Russia. Military parade on Red Square is a regular sight.
Other than being the historical and political center, Red Square has also served as a popular venue for high profile concerts. Many famous international figures have performed at Red Square.
Red Square has lived immense history that has played an important role in shaping the modern Russia.