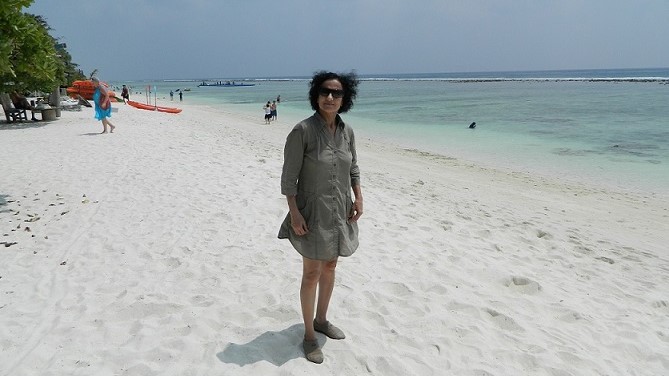 Ambling along silvery beach for hours. Breathing in the serenity. Feasting my eyes on sparking blue ocean. With fascinating corals shimmering through crystal clear water. And spellbound with its milky white sand. I was elated being in Maldives.
Recall now the early morning of 9th March 2018, as my cruise ship anchored in waters of Maldives, a dreamy world emerged. I looked through my window. My eyes twinkled at the stunning vistas outside.
As far as I could see I found tiny islands appearing like mystical Shangri-La surrounded by waters of Maldives. No land connect between islands. All commuting done through sea channels creating a pretty sight to savor.
Republic of Maldives, a South Asian Island nation, is situated in Indian Ocean at a strategic position which covers almost all major international routes of sea. Several luxury liners cruise to Maldives from different international ports. I embarked in my ship from India.
Maldives comprises of around 1190 islands positioned on natural 26 atolls all surrounded by scenic lagoons. And blessed with flourishing underwater life.
Not confined to one resort I wanted to experience the living style of general public of Maldives and get the feel of public beaches. So I did. Explored on foot. Walked and walked. Through tree lined wide roads with blocks of residential apartments on both sides. In between shopping centers too. In fact roads can be seen within island only. I used their public transport. Comfortable air conditioned public buses plying within the island charging reasonable fare.
I have been to many beach destinations worldwide. All had their magic. All had their distinct feel. But few touched my heart deep.  One such destination was Maldives. I will not be exaggerating if I say Maldives is unparalleled in whole world because of its topography.