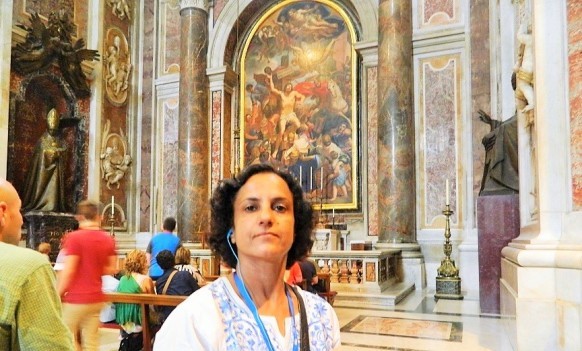 When I chalked out my first Europe tour, I scribbled few names in my list of must visit countries. And one of the names, highlighted with marker, was Vatican.
Why Vatican? Yes I am a spiritual person and I do visit places of spiritual significance.  Part of my travels comprise spiritual travels.
Vatican is a city and an independent country. Landlocked by Italy, Vatican is the smallest country in the world. With an area of less than one square kilometer, Vatican is surrounded by Rome. Though a tiny sovereign state but Vatican is the religious powerhouse of Christianity. And the supreme seat of Pope.
There are several attractions for sightseeing in Vatican. Splendor of St Peter's Basilica and Sistine Chapel made me dazed. I was awestruck by the magnificent art of St Peter's dome and heavenly crafted Sistine Chapel's ceiling frescoes by the maestro Michelangelo. But let me tell you while Vatican is a prominent spiritual place, there is distinguished art angle, too, for art lovers. Several museums and art galleries within Vatican are an artist's delight.
Ground area of Vatican may be half a kilometer but its winding numerous galleries made me walk several kilometers. Legs refused to step further. I craved to gulp something to energize me but the opulence of art kept me hooked. Of course I rushed to cafe the moment I finished my inside tour and had my favorite Italian Pizza bite over coffee.
I clubbed Vatican tour with my trip to Rome. I do admit that  I had to wait long in queue to enter St Peter's Basilica and Sistine Chapel. But once inside I dismissed tiring waiting hours and hooked on to the English commentary I received through my earphone while gazing at the holy world of Vatican.
My Vatican experience had been soul stirring, indeed.