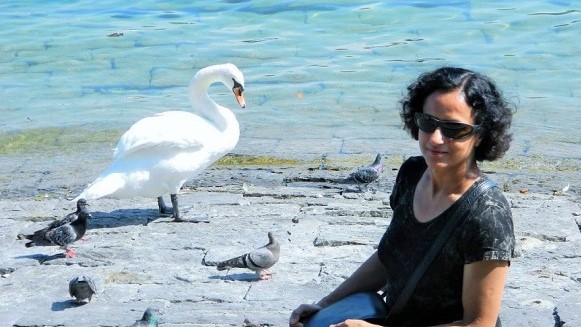 In childhood I had heard the story of fairyland from my grandma. Beautiful fairies chuckling around a picturesque lake with white swans swimming in crystal clear water. Reveling in the company of  one gorgeous swan, one fairy lazed on the lake side. Like that fairy I dreamed of me sitting alongside a swan.
It was a forgotten childhood dream until it came alive during my visit to Switzerland. Dreamy Switzerland fulfilled my long cherished dreamy wish while I was sitting on lake side admiring lake Lucerne. Suddenly I saw one dashing swan loitering around me. "My swan" I mumbled in joy.Exchanging admiring looks and responding with pleasing gestures, we both stayed together loving each other's company. This was a magical feel. This event made my Lucerne experience more memorable. I am all in giggles recalling those moments.
Lake Lucerne is situated in Lucerne city of Switzerland, covering an area of around 38 km. There are scenic walkways all along the lake. If you want to explore lush surroundings of lake Lucerne then there are variety of cruises to choose from. The way I did. Being in mountainous settings weather is bit unpredictable. That may spoil cruise fun with blurry vistas. Just inquire beforehand.
Lucerne, the panoramic city of central Switzerland attracts travelers, differently. Many are drawn for its stunning landscape. For others the magic pull of the city is lake Lucerne, also known as the lake of swans. Whereas the charm of Swiss watches lure some to Lucerne as the city has abundance of watch shops. Still not enough for few, then the festivities of cozy Swiss summer will make you revel in Lucerne. And I was no exception. Merged myself fully in festive fervor of the city. Was thrilled when a local band of performers invited me.  I felt so special.
Lucerne is known as the city of festivals. Many international events and carnivals are organized in Lucerne. Variety of performances take place throughout the year.
Lucerne is also a popular destination for Swiss made watches. Though I was not into the purchasing of Swiss watch but I did admire the sheer beauty and the exclusivity of Swiss watches. My own shopping indulgence was limited to pretty souvenirs.
Lucerne city is the mix of traditional and modern architecture. There are many town squares in the city. Old town of Lucerne is traffic free. Its frescoes and historic buildings were a delight to look at. I had joyous time walking and exploring the lanes of old town area.