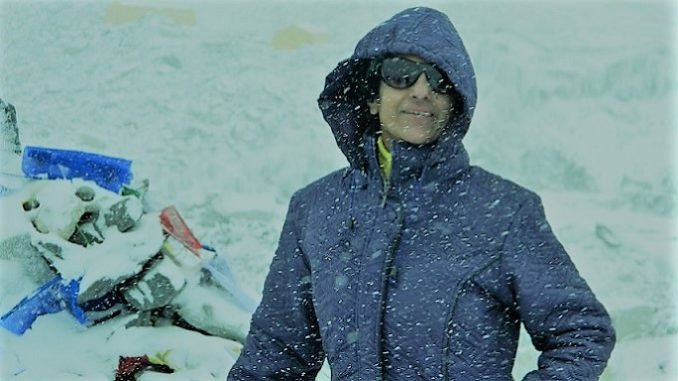 Mighty Mt Everest and Everest Base Camp trek fascinate every intrepid traveler and I was one of that league. Aspiring and ever ready for the challenge.
I had been on many mountainous treks, earlier. I had been on high altitude glacial treks also. So no major doubts in my mind, still I had to be assured of my success before embarking on my trek. Once I took up any challenge I always completed that.
My journey commenced from Kathmandu. Then a short flight to Lukla, one of the most dangerous airports in the world. Lukla is the gateway to Mt Everest. From here thrilling adventure begins and that continues for next ten days.

On the trekking route there was a memorial at Dungla dedicated to climbers who lost their lives to Mt Everest. I bowed my head in respect.
As I neared Everest Base Camp things got harsher. High altitude trekking at 17,000 ft was very tough. And got tougher while trekking through glacial moraine and treacherous rocks. Above that blizzard to endure and visibility near zero. A perfect thriller script!
And the much awaited epic moment arrived. I was part of the great climbers' legacy, unbelievable! I was at the Everest Base Camp. My mission accomplished. I felt so contented. Those moments are hard to describe here. It is a feel I treasure within me.
Lucky me, at base camp weather got better, so visibility improved. I was spellbound at the breathtaking panorama of Everest Base Camp. At an altitude of 17,598 ft, with low oxygen level and the life risk involved at icefall, did not deter me from wandering around. I stepped in Khumbu icefall as longed to see myself on the route climbers take to scale mighty Mt Everest.
On my way back to Gorek Shep, my night halt, I was all lost in my moments I spent at Everest Base Camp. As I reached my lodge, I realized I was fully covered with snow. Lodge lady came rushing to me and helped me with my raincoat. She instructed a person to dry my raincoat and dragged a chair to make me sit near fireplace.  Two trekkers were already at the fireplace. One of them glanced at me and complemented, "you have set a record for climbing, we used all gears still couldn't manage and you did in your normal shoes". I smiled shyly.
My trek to Everest Base Camp had magical effect on me. I felt like a bubbly teenager, who was full of energy and ready to conquer the world. I had rediscovered me. All memories of my Everest Base Camp trek are captured in my photographs. I get emotional every time I look at. Even while writing this post I am getting little carried away.
Have extensive read in my 12 part series on Everest Base Camp Trek.
Sharing few glimpses of my adventure