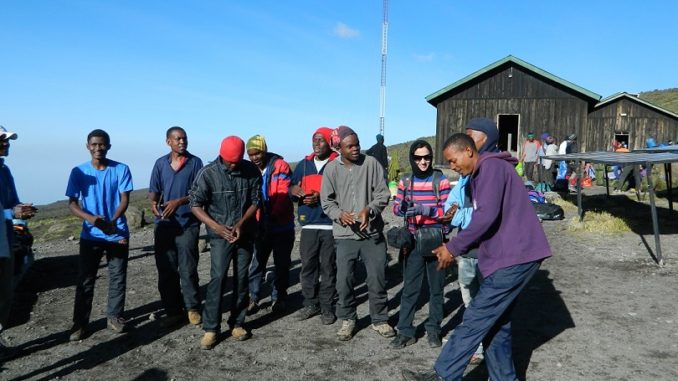 At 3708 m (12165 f ) it was a chilly night with low oxygen level at Horombo Hut. More so because it had rained during day. I layered me appropriately in woollen and huddled in my sleeping bag. Next morning I was up early and got ready after fulfilling breakfast.
As I was about to move for day's trek, I stopped at the pleasing sight of a group of trekkers dancing, celebrating. They noticed my curiosity and smilingly signaled me to join then. I felt so good, captured their joyous moments in my camera and joined them in their revelry. Also tried to pick up their dance steps.
Horombo Hut to Kibo Hut was altogether different panorama. Moorland gave way to desertland. I was trekking in alpine desert now. Cold vast desert. I walked and walked….Nothing around, just me and the endless desert trail in front of me. With the fabulous vistas of Mt Kilimanjaro to savor, that invigorated me each time I looked at it.
It was a long distance high altitude walk amid desert. For many miles the trail remained free of any ascend or descend. Very smooth to walk. Still tiring for weary body. Longing for some rest and no view of Kibo Hut campsite. I kept on inquiring about the distance left. And my guide was quick to respond.
After seven hours trek I arrived at Kibo Hut camp, the base camp for climbers. After registration process I got my bed in designated room. All tired I just threw me on bed. Soon after I was served with coffee, popcorns and peanuts.
There were no huts like previous camps. There were dormitory style buildings built of solid stone. And unlike other camps there was no common dinning hall but one big table was provided in each room. No flush toilets, too, just platform toilets without any water.
My Kilimanjaro Climb tale continues….