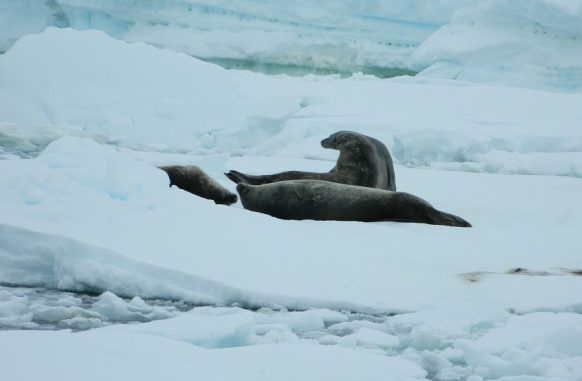 So still. At many places I mistook them to be rocks. They were mammoth seals of Antarctica. Lazing around. In exquisite white and exotic black colors. Oblivious of the surroundings. I was delighted seeing them in so much peace.
When first time zodiac driver noticed seals while cruising, me and my fellow occupants    in zodiac got super excited. And hoped to see them do some activity but none of the seal moved. They were stationary. With zodiac engine switched off, so that there is no sound distraction, we waited.  In fact, had to wait quite long to see one seal rise.  And I was thrilled seeing majestic weddell seal.
Seals are integral part of Antarctica's ecosystem. I saw plenty of them basking in sun. They showed no fear of human visitors. Never moved when anyone approached near. Seals remain under sea ice most of the time and dive deep to find their prey. They mainly eat krill and fish. In summer they come over Antarctica land and ice floes to breed.
I will never forget one exciting instance when me and one charismatic seal gazed at each other. I blurted out, "hey handsome!" And seal opened his mouth complimenting me. I giggled, waved at him and moved seeing my guide signalling me to come back. I narrated the sweet incident to my guide and she burst in laughter.
Seals are huge aquatic mammals. Six species of seals are found in Antarctica. These are weddell,  crabeater, elephant, ross, leopard and fur seals. I was elated that I happened to see most of them closely. They may have weighed from few hundred kgs to few thousand kgs. I had seen seals earlier in water parks of Australia. But seeing them in Antarctica, in their natural habitat, was truly an amazing experience.
MY ANTARCTIC ODYSSEY continues ….