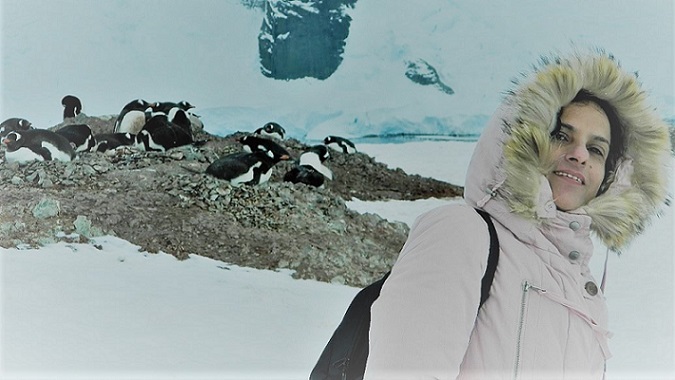 Penguins on the island. Penguins on the shore. Penguins on the rock. Penguins on the snow. Penguins everywhere. Telling me loudly, "this is Antarctica, the penguin world. Human is just a guest here"
My another zodiac landing in afternoon. Another Island and more Penguins. This was my visit to Cuverville Island, home to thousands of beautiful Gentoo penguins.
Gentoo penguin is one of the four penguin species that breed in Antarctica. With white spot on the head and colourful orange beak, Gentoo penguins are very distinct from other penguins.
Cuverville Island is a rocky island with beautiful vistas. Penguins occupying higher rocks looked like part of beautiful landscape painting. I went on hiking along with group members. Few viewpoints had been set from different angles enabling to observe penguins closely and to enjoy island scenery. Thankfully it was clear weather so everyone enjoyed a lot. Even penguins were delighted at good weather as storms and heavy snowfall proves deadly for their eggs and chicks.
Though penguins live major part of their lives at sea, but they breed on sea ice or on rocks at higher elevation, or on land attached to Antarctica islands.
Except Emperor penguins, all Antarctic penguins breed in summer. And that is the major factor that penguins in large numbers are visible to travelers.
I hiked to all set points for penguin viewing. Spent lot of time observing their movements. Lovingly watched them strutting through snow. They were little shy of humans. Instead of mingling they were absolutely clear that nothing can distract them from the warmth of their own world.
Early evening. Time to be back on ship. Wonderful day with lovely penguins. Once on ship, announcement to gather in lounge for the recap of the day. Quickly I changed into casuals and rushed to lounge as I was craving for evening tea with cookies. While listening to recap points, I sipped my hot tea. Felt good. Refreshed. But everyone was not into tea or coffee. They were into alcoholic drinks to refresh them. And good part was hot drinks and bar, all indulgences were placed in lounge itself. So everyone enjoyed drink while listening to speakers.
To celebrate first day of landings, happy hour was declared at bar. That didn't mean free drinks. But discounted, of course.
Next day and lot more to be experienced..
MY ANTARCTICA ODYSSEY continues ….