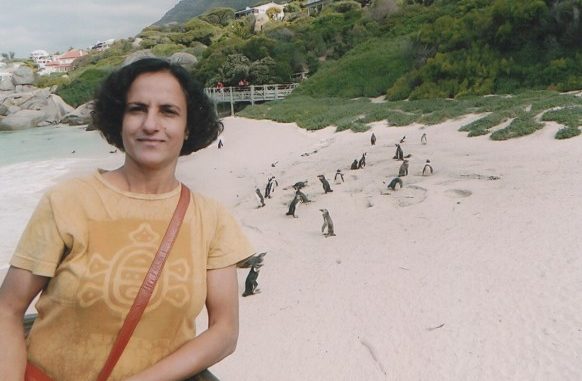 Penguins loitering on a beach in Cape Town, how can this be remotely possible? This was my reaction when first time I got the news about penguins colony flourishing in Cape Town, South Africa. For me, a person desiring since long to be in Antarctica amongst penguins, this news came as a solace. And brought me smiles.  Soon after my trip to South Africa got finalized. I immediately added my intended visit to penguin colony in the list of 'what to be done in Cape Town'.
Coastline of Cape Town offers many scenic beaches. But I found Boulders Beach very inviting. More so because this was home to my adorable penguins. After paying entrance fee I entered the protected area. By protected I assumed that proximity to penguins might not be allowed. But I was pleasantly surprised when I saw visitors' walkway running through pristine sandy beach with penguins wandering freely, all around the walkway. There were many breeding and nesting sites of penguins which could be viewed from walkway. Oblivious of visitors' presence I saw baby penguins cuddling and lazing around in sand, superb feel.
At few points penguins were just at an arm's distance but I did not disturb cute flightless birds, just looked  at them lovingly. I still recall those intimate moments when I sat in front of one pretty penguin. We both glanced into each other's eyes, as if exchanged friendly greetings between us. Indulgent African penguins bowled me over.
Penguins found in Cape Town are African penguins. This is said that around forty years back few breeding pairs of penguins were seen around Boulders Beach. Now, more than two thousand penguins dwell in the protected environment of Boulders Beach.
Boulders Beach is a sheltered beach formed around beautiful granite boulders which lend its name to Boulders Beach. Boulders Beach is part of the Table Mountain National Park. Its beauty combined with sightings of penguins, makes this beach very popular among tourists. There are many restaurants and handicraft shops in the area, to indulge little bit in eating of shopping.
After relishing my up close experience with African penguins, my desire to explore Antarctic penguins has, further, deepened.