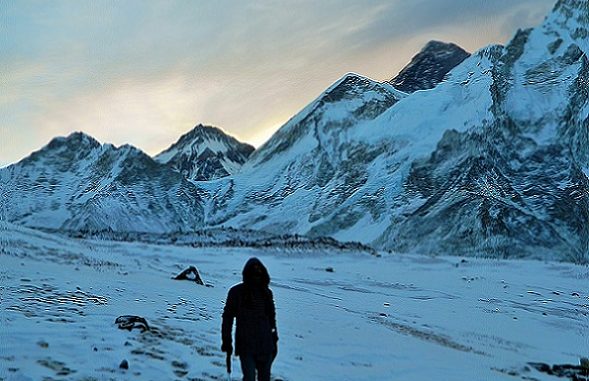 I left my mark on Everest Base Camp. Before I bid goodbye to Everest I earnestly wished to go up close to Everest. Everest peak is not visible from Base Camp due to its structural position. For that I had to trek to Kala Pathar before dawn. Kala pathar which means black rock, a symbolic landmark to get spectacular view of Mt. Everest.
By the time dinner was over,  weather got  turbulent. Blizzard and  heavy pour, totally dark outside, looked like a scene out of horror film.
And inside dining hall,  there was serious  discussion going on. First of all guide wanted to know who were willing to climb up to Kala Pathar. He offered two possibilities, first to  ascend onto top and second for a short trek to get Everest  view. Of course I was one of those trekkers who wanted to ascend.
Then guide raised the tricky point. Trek was going to happen only if  weather was calm. But that made me uncalm. No doubt I understood the limitations, still I wanted  to have a feel of  me being very close to Everest. Otherwise I knew I will miss something in me. So it was better to risk my life than to live in depressing thought of not being able to do it. Nobody agreed to me and tried to convince me. Few were of the opinion, besides me why to put guide's life in risk.
I was even ready to venture out alone but that was not acceptable to guide. Some heated arguments exchanged.  When I did not relent. All stopped arguing. I suggested a plan. If bad weather persisted then me and guide will leave at 5am instead of 4am. Will  trek upto a point as would seem convenient and not involving high risk. Plan  approved.  Guide informed that he will be sleeping in dining hall.
Set the alarm in mobile. But  no sign of sleep. Curiosity of me being closer to Everest kept me awake. At one time I decided to get ready and just sit somewhere. I came out and saw Bob standing near staircase. I was so delighted when Bob informed me that weather was fine and he was going down to inform guide.
Lobuche  had freezing temperature. Guide had already told everyone to wear extra layers of woollens and double layers of socks. I put on many warm layers, wrapped myself like Egypt mummy.  But I did not use spiky shoes or crampons as was more comfortable in ordinary sports shoes. And I was sure I could manage well. Previous night I noticed my head torch battery was down. But knew those were full moon nights so would not be that dark outside.
Finally, me Bob and Pranav left with guide Ishwor for our uphill trek to Kala Pathar. The moment I stepped outside, experienced little  shortness  of breath. As I always do, deep breathing with measured steps and my breathing was back to normal. I ascended further, this time I felt like my toes would freeze any moment in spite of double layers of woollen socks. I stopped and applied my well tested formula. I wrapped a layer of water proof sheet on top of two layers of socks and that worked wonder. As climb continued, I thought of having a sip of water but shocked again, my water was just a lump of ice.
After all the chilling events, appeared the picture perfect sight of Magnificent Everest standing tall, along with other grand peaks including  Nuptse and  Lhotse. While admiring the beauty of Everest, I expressed my desire that I wanted to trek further uphill. But Pranav and Bob opted to go back. By then guide knew I had all the ingredients of a good climber. I could take care of me well so he approved my ascending further. Before they departed it was time to capture those magical views. So, lot of  clicking done.
Me as solo trekker had my private moments with Everest. Mesmerized! Me up close to Everest, had a magnetic touch of embracing Everest.
With moist eyes I started descending. Then saw guide coming to take me along. I smiled. He smiled back asking, "are you happy now, Indra" and I assured him I was very happy. He held my hand and helped me descend faster, almost slid down to reach Gorek Shep.
MY Adventures continue…..