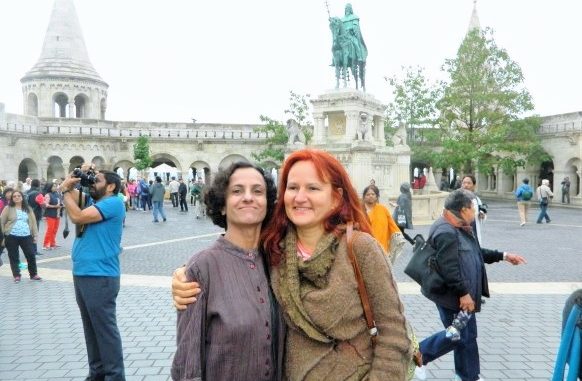 Do not get mistaken by the name of my friend. She is my Hungarian tour guide and her real name is Kinga. Kinga means princess in Hungary. Now, you may probably think that I changed her  name to Ganga out of affection. That is not true. Kinga is a huge fan of India. She has traveled nine times to India. She told me that she had visited Banaras and Rishikesh. She admires our holy Ganga so much that she wants everyone to call her Ganga. Though, she is Hungarian by birth but she is Indian at heart and follows Indian beliefs. A spiritual person, a dedicated tour guide, an emotional human being, she is vegan and she is my friend Ganga.
A day's sightseeing  tour in Budapest, the capital of Hungary, brought Ganga close to me and we became good friends. Sometime you are with someone for long and you do not feel connected, other time a day is enough to get attached to a person. Me and Ganga chatted a lot about India and exchanged valuable information.  She has thoroughly studied Rabindranath Tagore and Mahatma Gandhi. This reflects her intellectual side. I may not be exaggerating if I say that many of us have not researched much on Rabindranath Tagore.
I enjoyed Ganga's guided tour immensely as she talked passionately about Budapest, how the city is bisected by river Denube, on one side  Buda and other side Pest, and how 19th century old chain bridge connects Buda with Pest. I enjoyed walking tour of Buda Castle with her. Her narrative was so engrossing that I remained glued to her storytelling and visualised as if I was living  in that  ancient era of Hungary.
She was so caring that she ensured to take tourists at such point which offered free use of toilet as toilet use is very expensive in Europe. She personally helped  travelers with shopping, bridging language barrier. At one time I wondered whether Ganga is, truly, an amazing person or she is just an amazing tour guide who knows her work well as how to keep people hooked to her guided tour. Whatever may be the truth but one factor is undeniable that she is my wonderful friend, for ever