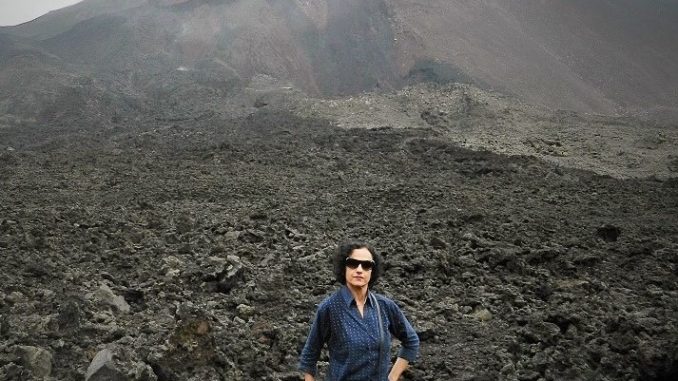 Why I delved in extensive research before my hike to the most active volcano, the Pacaya volcano in Guatemala, Central America? The reason was significant. The 8000 ft plus hike, with major chunk of hike comprising the spiky formations of cooled lava. Because eruptions are very frequent and sudden in Pacaya volcano. The tip of volcano bubbles with molten lava all the time.
To grasp the real hiking situation I went through different hikers' reviews on Pacaya volcano. Some hikers termed Pacaya hike as strenuous whereas others tagged it as moderate hike. I analysed all available info and opted for afternoon tour of seven hours from Antigua. Secured my feet in good hiking shoes as hiking trail runs deep in solid rocky formations. That is the most adventurous side of Pacaya hike. Though sometimes turns in life threatening situation too. I took along enough water to keep me hydrated and snacks as energy booster which I may need during hike or after hike. And one waterproof jacket as my protection from windy or rainy weather I may encounter during hike. Though I do not use stick for moderate ascends but I took one stick for slippery descend on ash and gravel.
I tied up with  local Spanish speaking guide who conversed in English as well. Enjoyed panorama immensely on the way up. But as I ascended clouds enveloped whole area blocking the Pacaya landscape. I hoped that clouds will part soon. And it happened so, really. Incredible vistas emerged. Then the glorious appearance of Pacaya volcano. Superb views from top. Quickly I captured all in my camera before weather turned nasty again as my guide had cautioned so.

After top view I hiked amid solid lava rocks, volcanic ash, and sulphur gas to endure, all was thrill. It was such a happy coincidence that weather remained favorable till I was hiking deep in volcano. I enjoyed to the fullest. And the moment I started descending back suddenly it began to pour heavily. Quickly I put on my rain jacket. Bad weather did not bother me much as I had already fulfilled my desire of being up close Pacaya volcano and get the real feel. One thing I noticed that greenery was in abundance in surrounding areas of active volcano. Such a strange phenomenon of nature.
Lastly the scene of customary roasting of marshmallows by hikers in Pacaya volcano. A great fun to roast and relish.
Just be sure to be in good health when hiking deep in active volcano.