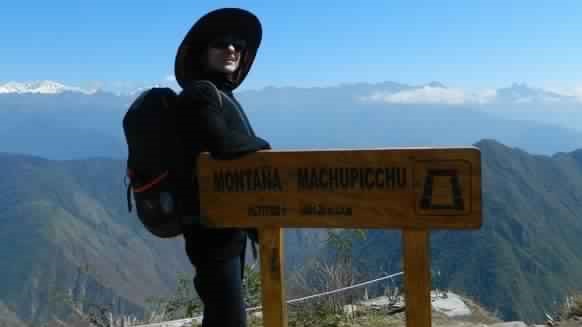 Aspirations never end. True. The moment we fulfill one, we aspire for another.
Same happens with me during my travels.

After fulfilling my long cherished desire to be at the iconic Machu Picchu ruins, in Peru, one of the 7 Wonders of the World, I aspired for more. I decided to ascend further to Machu Picchu summit. Though that proved bit tiring, but truly rewarding. If I had not climbed Machu Picchu mountain, I would not have got the fascinating panoramic views of magnificent citadel and the spectacular surroundings.
At an altitude of more than 10,000 ft, Machu Picchu mountain peak was once used for sacred rituals in Inca times. All loaded in rich Inca legacy, Machu Picchu is a significant trek for trekking enthusiasts these days. It takes around four hours from Machu Picchu ruins to Machu Picchu summit and back to citadel. Trekking route comprises of rugged track and countless steps. Though moderate trek, initially, but nearer to peak, steps are narrower and steeper. With one side deep gorge, one slip of focus and I would have lost balance, breaking my limbs. In fact my unison of mind with body kept me safe and going.
There is entrance ticket for Machu Picchu mountain. This can be purchased separately or as combination ticket with main Machu Picchu entrance ticket. I did so. Trek to mountain begins from inside the main entrance gate of citadel. I could have started my ascend straight after my Machu Picchu ruins tour of more than two hours. But I exited the main entrance to freshen up, as there are no toilets inside, only available outside the gate. I purchased more water and eatables to keep me hydrated and energized during trek. Then quickly entered the main gate as entrance to mountain was about to close. Entrance to citadel and trek is allowed till 10 am only because by evening all visitors need to exit.
I had no particular problem with trek as I had done many strenuous treks, previously. But I do say that few patches of steps were dangerous. I felt tired too. I had been trekking for the last many hours since 4 am in morning as I had trekked to Machu Picchu citadel earlier in morning. But the moment I was at top I forget my tiredness. I was grinning and my eyes were feasting on the awesome vistas. Though descend was difficult but my jubilation kept me moving.