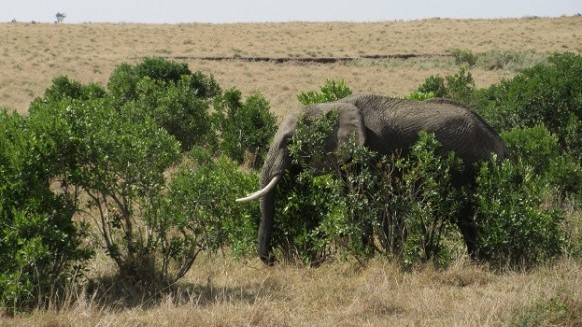 Jumbo elephants make African landscape picture perfect. I saw them huddle as family. I saw them in groups. I saw their grace when they walk. Whenever and wherever they appeared their aesthetic presence dominated the topography of Masai Mara in Kenya.
When I visited world famous Masai Mara National Reserve in Kenya I was so delighted seeing many jumbo elephants during my game drives in Masai Mara. Sheer size of African elephants makes them iconic figure of the continent. African elephants are cheered as mascots, too. I saw their captivating figures on souvenirs when I traveled to Kenya.
Elephants of Kenya are fabulous. They hold cultural significance and respected hugely by locals, besides offering great tourism prospects in the region. And they play significant role in local economy.
But Masai Mara elephants are continuously threatened because of habitat loss and ivory poaching in the area. There are many times human elephant conflicts, too, that results in elephants getting killed each year and many more wounded. To protect elephants from such dangers few elephant conservation projects are working in Mara by engaging people in partnership. With the sole purpose of monitoring elephants such projects are highly effective and appreciated.
Masai Mara National Reserve in Kenya has recorded healthy yearly growth of elephants. As per the statistics of World Wide Fund the population of elephants in Masai Mara has tripled in last couple of years. Though poaching still remains a huge threat but this is heartening to see that jumbo elephants are flourishing in Masai Mara reserve. Government efforts in carrying anti poaching programs are showing positive results.
Hope you enjoyed jumbo pics captured by me in Masai Mara, as much as I relished clicking these.