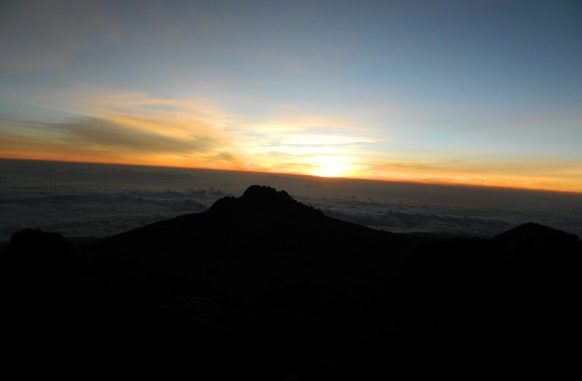 While climbing Mt Kilimanjaro, the highest mountain of continent Africa, I experienced much more beyond climbing. My most cherished moment was being at the top of Mt Kilimanjaro, indeed. But I equally held dear the dreamy moment of sunrise that I witnessed from top of Mt Kilimanjaro aka Kili.
Unlike other sunrise views when I had to look above in sky, here it was different. I felt like I was standing face to face with mighty sun. This experience was so unique. This is one the reason for doing night climb so that climbers can feel the mystique of sunrise from top. In fact watching sunrise from top of Mt Kilimanjaro is every climber's dream. And it was mine too. I was just hoping that weather remains good so that I get a distinct view.
The changing hues of sky and then the emergence of golden sun. I was elated. Captured each moment of magical sunrise through my lens.
Apart from mystical sunrise, another thing that fascinated me was the exotic flora and fauna I witnessed on my trekking trail. Surrounded by plain desert, Mt Kilimanjaro comprises five vegetation zones: lower slopes, montane forest, moorland, alpine desert and summit. Several endangered species of flora and fauna are found in this region. Below are the fabulous vistas of Kilimanjaro landscape.
This post was the portrayal of my experiences that I had beyond climbing to Mt Kilimanjaro. Hope you enjoyed all views equally as much I enjoyed while capturing.