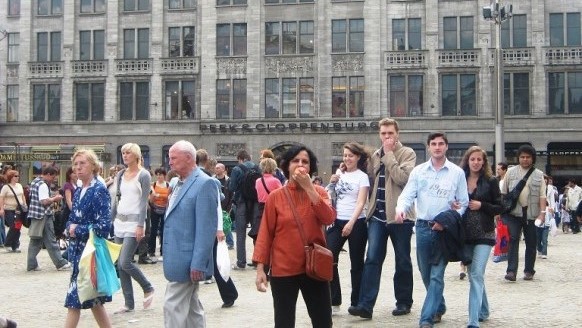 Fun & frolic takes over everyone who arrives at the Dam Square in Amsterdam, the capital of Netherlands. And I was no different. And, perhaps different, as far as my apple eating binge goes. This I realized when I looked at my pics. Was I lost in frolicking at the Dam that I remained oblivious of my non stop apple eating?
This is a fact I am depicting here that lively atmosphere at the Square proved addictive for me. And I indulged fully.
The Dam Square or simply the Dam, as popularly called,  is the heart of Amsterdam that pulsates in the historic centre of city. The Square is extremely popular and remains packed with visitors, and locals as well, year round. So, finding a place to sit, just forget. While having coffee I thought of grabbing a seat in café but no luck. There is mammoth open seating area at the Square but I saw all packed. Yes, I could have remained in waiting, hoping that someone might get up and I get a chance. But in my case, sitting or standing was hardly an issue for me. There was so much to engage in, at the Square. Right from lively performances to indulgent shopping, or just window shopping. A glance at dazzling diamonds at famous Amsterdam Diamond center. To try local delicacies. And fancy a tonga ride or simply watch pigeons flutter and fly at the Square.
After relishing the central part, I explored nearby areas around Dam Square. At one point, I found tram pressing breaks for me. Why so? Because all lost in my thoughts, I landed up in front of a moving tram. Almost bumped into it. I shrieked. My tongue reacted in shock. And then I laughed loudly. Now cannot say what prompted me to laugh. Everyone around laughed too and waved at me. Such a sweet gesture of humor. Even today that scene makes me grin and bite my tongue.
The Dam Square was named after a dam built over the river Amstel. Many prominent and historic landmarks lie in vicinity of the Dam Square.  Among all attractions at the Square, I found historic Royal Palace very impressive. The façade of Royal Palace has a classic feel. The Palace is not the official residence of Dutch Royal family, but regularly being used for important official and Royal receptions. The Royal Palace remains open for public, all days, except for holidays or some event being organized in the Palace premises. Other important landmark worth mentioning  is the National Monument, a war memorial in white stone, adorned with sculptures and erected in 1956 at the Square.
Besides historic landmarks, I can say Madame Tussauds' wax museum is imposing, and worth visiting, in case someone has not explored Madame Tussaudes' wax works in London.
Thus, I will recall  my day at the Dam Square in Amsterdam as funnier, fancier and exploratory.