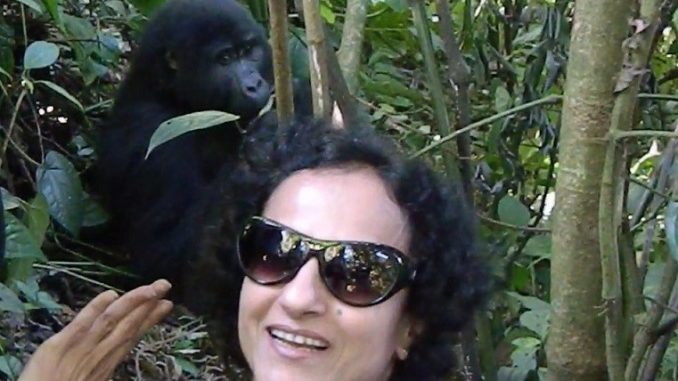 Let's wander in the world of apes.
The great apes. 
Matching 98% DNA with humans. 
And sharing common ancestors with us.
DNA  precisely determines the way any living thing looks and acts. Thus, apes are the closest
animal relatives of humans.
My adventure genes now tracking gorillas in their natural habitat.
A wish came true. Or I shall say this has been the last wish of my travel wishlist, until now.
I was exuberant being with mountain gorillas in dense forests of Uganda.
Why do I say mountain gorillas?
Because they are the special ones who are found only in the forests of three African countries, Uganda,
Rwanda and Congo. And none in the zoos in whole world.
I was told that the gorillas seen in zoos are the low land gorillas only.
Mountain gorillas are critically endangered species. Merely around 860 mountain gorillas are
left on planet. And almost half of the population of mountain gorillas resides in Uganda.
That is the reason I chose Bwindi Impenetrable National Park, a World Heritage Site in Uganda.
Traveled by taxi from Entebbe hotel to the Bwindi forest which took around eleven hours.
I had researched on the elaborate arrangements in forest ensuring safety of gorillas, and visitors as well, while almost ensuring that travelers get to meet gorillas up close. That is why they charge massive fee for entry permit. Only few visitors are allowed each day. Four forest trackers, one guide and two escorts with each group of eight visitors.
All arrangements are proficiently managed to facilitate trek through forest for tracking gorillas.
This allows each visitor to spend quality time with gorillas but keeping at specified distance.
Of course gorillas are at liberty to touch humans if they feel like. As one brushed my body as he
passed by suddenly. And I chuckled waving at him. No loud talk or noise of humans allowed.
Only gorillas have the right to make sounds.
Gorillas behave gently not causing any harm usually to humans. They get aggressive only when feel
threatened. Else they just keep busy in eating leaves and fruits. Vegetarian buddies. Do not need even
water as leaves moist their bodies perfectly.
Immensely intelligent. Gorillas use innovative tools for their needs. They behave absolutely like humans.
Very emotional too. All clearly seen and felt by me through their gestures. They use hand gestures a lot
for interaction. And scream to signify alarm or threat.
One hour was allowed to be with one group of gorillas. I closely observed their behavior. Then followed
my emotional goodbye.
After my heartwarming moments with mountain gorillas, my quest took me to different part of Uganda to meet other apes, the chimpanzees. Also fondly called chimps, they match similar DNA with humans, just as gorillas.
So now I was on my journey to Kibale National park at 10 hours drive.
In fact before I embarked on my mission of tracking chimps, I was in somber mood as I was clearly told by guide and forest authorities that they do not guarantee of spotting chimps. Or chance may be that I spot many chimps and spend good time with them. And I will call myself the fortunate one that I came across many chimps and happened to be up close with them for more than an hour. Felt privileged meeting them in tropical forests of Africa.
Chimps live mostly in forest canopies but do come on ground. When I happened to be in forest they not only came down but spent lot of time as family get together. Caressing. Interacting. Few took a short nap too.
As food they prefer fruits but they eat variety of food like leaves, insects, eggs and sometimes even small animals too.
Kibale National park is also a famous research site for chimpanzee study.
I found so many similarities between the gorillas, chimps and the humans.
These apes give birth to one baby, or sometime may be twins,once a year.
They resemble many features and facial expressions with large hands and toes to clasp.
Emote like us and use sounds to communicate.
Make gestures. Laugh. Cry. Play. And fight hard too.
They have thinking minds like us.
Meeting the great apes, with whom we share our forefathers, has been such joy which will remain with me lifelong.
Sharing short video. Enjoy.