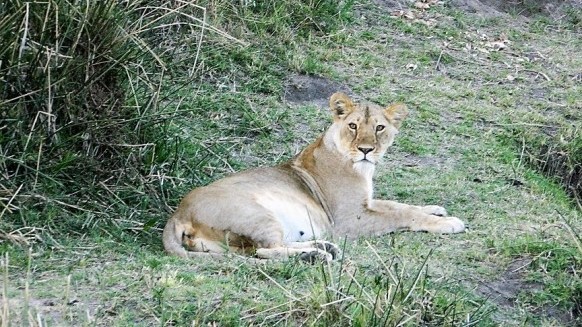 First day of my game viewing in Masai Mara, the world famous wildlife reserve of Kenya. Craved to get a glimpse of big cat. But none in sight. Desperately driving amid rugged terrains of Masai Mara. Suddenly my safari veered to other direction and raced through dusty trail. Surprised I inquired but got no answer to my inquest. Soon after all was clear to me when my safari driver steered to left and hit the brake. I noticed more safari vans around with their occupants looking at something excitedly. And my eyes glinted when I spotted gorgeous lioness when my guide signaled to a particular direction. Kept gazing at the lioness while my fingers engaged in clicking.
After few minutes all safari vehicles started to leave the spot as per the permitted time to stay. But for frontmost safari van, the joy of being closest to lioness turned into a nightmare. That fateful van bogged down on rim of trough in which lioness lay oblivious of the presence of safari vehicles. Girls in that stuck safari started crying and that roused sleeping lioness. Now the complex situation. In front fierce lioness staring at the occupants and on back a raised ground so putting in back gear with all engine force did not move vehicle backward. Instead it moved little further hanging on the edge of the ditch.
All safari vehicles stopped. Drivers came out to plan rescue strategy but that did not work too. Rather it put other rescuing van's engine in danger of heating up. Now drivers came in huddle for next strategy. As per new plan now it was turn of a land cruiser being very powerful vehicle, to rescue the hanging van. And it worked. Anxious moments turned into joyous moments. Crying girls emotionally hugged each other. And the occupants of all the safari vans clapped in delight.
For fierce lioness it was just an interesting drama which she watched intently. And that may be the sole reason that the idea of attacking vulnerable occupants skipped her mind.