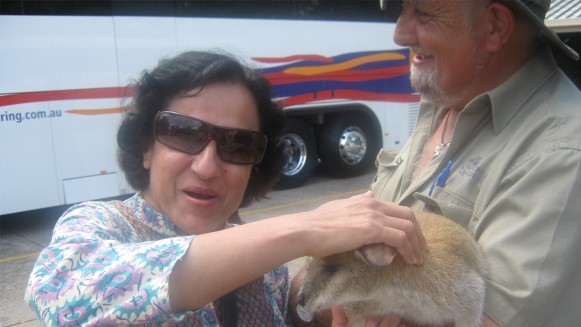 First corporate film of my TV journalism career  titled 'Australia Beyond Kangaroo & Cricket', in the capacity of associate producer, at that time. I had to preview shooting footage provided  by Australian embassy.  While selecting  video shots of Kangaroo, something  about hopping Kangaroo touched my heart. I longed to meet my darling Kangaroo in person, in Australia. But not enough money to fulfill my desire.
Years passed by, yet my love for Kangaroo didn't fade. In the meantime, my savings grew and I was ready to fund my Australia visit. First thing I told my travel agency  was to fix my meeting with kangaroo and that had to be on top of itinerary. I was sounding crazy to agency people but they knew I was serious and it had to be my way.
Within few days I landed in Sydney and next day I was set to have my dream date with Kangaroo. It was fixed at Featherdale Wildlife Park in Sydney. I was told, I could meet  Kangaroo, hold him and talk heart to heart with him.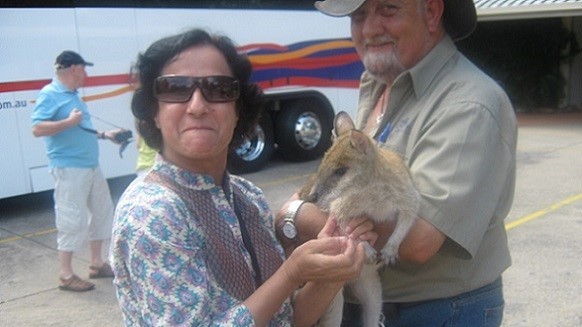 And, that special moment arrived. No more wait. One person was standing outside gate waiting for me and next moment I was holding my adorable Kangaroo. Quite a feel.
Kangaroo is Australia's national animal, with velvety soft skin, reddish brown color and short forelegs,  can run at a speed of 60km per hour. Isn't it pretty fast!  And a vegan, Kangaroo eats only plant matter like heath plants and grass.
After spending lot of fun time with many other Kangaroo friends inside park, I bid goodbye to all. Got Kangaroo souvenir that sits on my study table, since my Australia visit.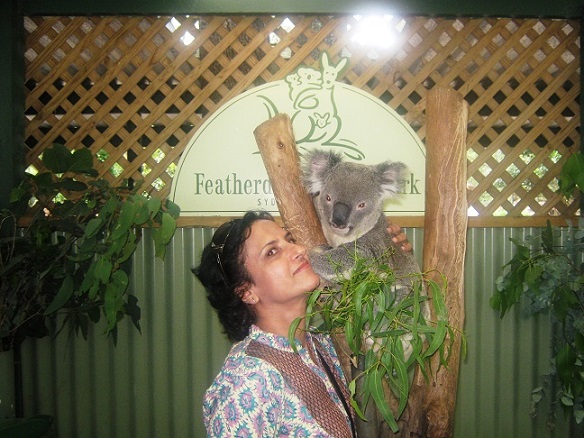 In wildlife park, there  were around 1700 animals from different Aussie species. I visited whole park, for me, it was a learning experience and unique one, too. More so with another Aussie icon, Koala. Caressing cutie Koala was like caressing small baby, so beautiful, so silky soft, so shy, so lazy, all the time just clung on to eucalyptus branch and indulged in eating out its leaves. Wow!