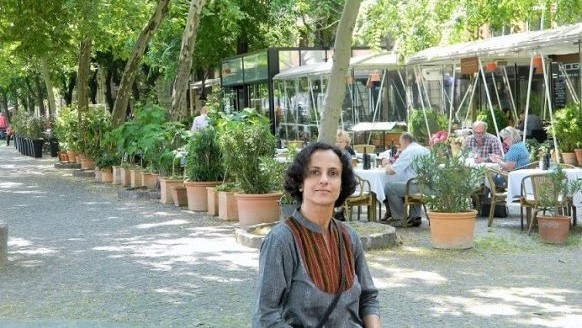 I ambled through myriad of cafes amid green settings. Then sat under the canopy of a huge tree, admiring and assimilating in cozy local feel.
This was me in charismatic Bratislava, the capital of Slovakia, Europe. Such is the small town charm of the Bratislava, that locals often call it a large village. They say that Bratislava is so small that they always bump into familiar people while out in the city.
Blessed with ample scenic beauty, Bratislava is a great mix of old and new. With historical Old Town in city center to modern architecture. All get along beautifully.
Plenty to explore in Bratislava but my pick was the Old Town. Lined with shopping streets, bars, cafes, Old Town is the hub of all activities. Whole area of Old Town is pedestrian area.
Old Town of Bratislava is famous for one more unique attraction. And that is the presence of many full size human statues, all around. Lending a unique touch to the historical Old Town. Blending perfectly in surroundings. A craze among tourist. And I was no exception, enjoyed gazing at these statues and clicked endlessly.
I will talk of Cumil, the watcher. And my favourite, too. Jutting out of manhole. Funnily peeping at you at a busy junction in Old Town. So natural that few feet away you will take him to be a real worker. No wonder that Cumil holds the record of most photographed statue in Bratislava.
Then the interesting statue of Napoleon soldier leaning over a bench near Town Hall. Right in middle of Main square. And there is an equally interesting story attached to this soldier. It is said that while passing through Bratislava, one soldier of Napoleon army fell in love with a native girl. And he stayed back in Bratislava
Unlike other European cities, Bratislava is serene. If you are in for a vibrant night life then Bratislava is not for you. If you in for a relaxed life then no better destination than Bratislava.