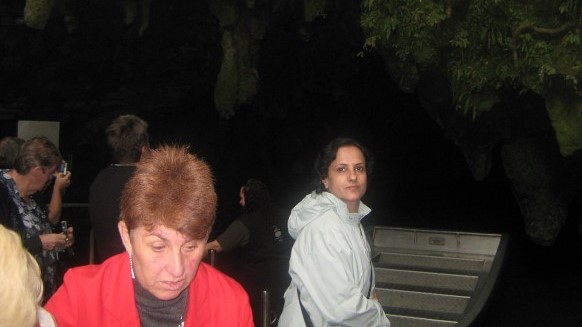 A magical boat ride meandering through glittering caves. Wonderland! I mumbled.
Shimmering with thousands of glow worms, twinkling Waitomo Caves in New Zealand, bewitched me.
On a guided tour to Waitomo Caves, I walked through fascinating caverns. Marvelled at sculpted lime formations. Gazed at incredible stalactites and stalagmites creating an illusionary effect in caves. (Stalactites are long thin pieces of rocks hanging down from roof of cave.  Stalagmites are long thin pieces of rocks pointing upwards from floor of cave.)
And then I entered the enchanting world of glow worms. Gliding silently in a small boat, through the waterway. Surrounded by the radiating luminescence of countless native glow worms. Whole feel of glow worms grotto was absolutely intriguing.
The glowing Caves are one of the most popular tourist destination for local and overseas visitors. Underground Waitomo Caves, beneath green meadows, along Waitomo river, were discovered around 120 years back.
While traveling to Waitomo Caves, I was very excited imagining galaxy of  living lights. I had researched lot on glowing caves. I knew I was going to have exhilarating experience. And to my delight, all I had been visioning about glowing caves came alive. Apart from fascinating sightseeing, Waitomo Caves were great learning to me, as my guide explained geographical factors behind such unique caves.
Natural wonders of New Zealand are awesome. Another wonder, that thrilled me to the core, was my trip to the Waimangu Volcanic Valley.
An invigorating long walk through vast verdant stretches. Then a scenic hike amid exotic jungles. Admiring pristine nature. And suddenly I noticed I was perspiring lot. I wondered, "why me sweating profusely in cool weather!"
I shrugged off and continued my walk. Then a troubling sense. I felt intense heat in my body. Something wrong with me? I was anxious. But my spirits were high and I walked further.
Then the mystery unfolded. I was approaching the incredible hot springs in Waimangu Volcanic Valley. The steaming land of New Zealand. I looked around and spotted enormous hot springs. Spectacular view. Entered wooden walkway and closed in. Felt hot, bit unbearable, too. My face turned red. But I chose to stay and let the beauty of magnificent hot springs sink in me. Enthralling experience, I cherished greatly.
Moved ahead on the well marked trail. Looked back to cast a goodbye look at immense springs. And stopped in astonishment, again. I saw several pools of boiling mud. Thrilled, kept gazing at mud bubbles.
Other than fascinating hot springs and mud pools, there are lot of thermal lakes in volcanic region. Many health benefits are claimed in geothermal properties of Waimangu Volcanic Valley. Thanks to the supposedly curative powers, to boast of, there are numerous thermal baths in the valley. And luxurious thermal spas, too, in natural settings. Options are plenty. Choose what fits in your budget. Indulge and pamper your body. I tried thermal mud, in little quantity.
Waimangu Volcanic Valley and Waitomo Caves can be visited from Auckland or Rotorua in a day's trip, very much like I did. These natural wonders should be in your list of must visit while traveling to New Zealand.