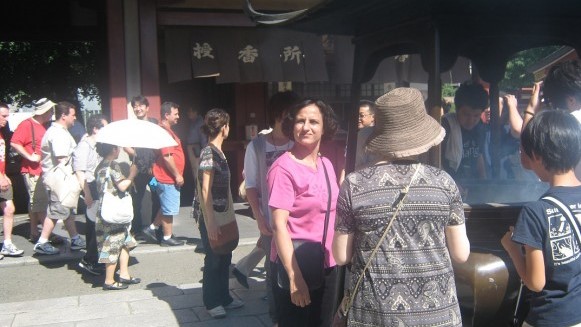 One thing which amazed me in tech city Tokyo, Japan, was the spiritual and cultural connect of the city. How deeply Japanese venerate their values, this I witnessed when I visited two prominent sacred places in Tokyo, the Meiji Shrine and the Sensoji Buddhist temple.
I visited famous Meiji Shrine dedicated to Emperor Meiji. He was considered to be a progressive monarch and revered by public. Meiji Shrine, besides being a sacred place, is a different world altogether. Surrounded by green setting of Yoyogi Park, comprising more than one lac trees, visibly looks like a forest. Meiji Shrine is a welcome retreat from buzzing Tokyo life, and that too in the city center, adjacent to ultra fashionable area of Tokyo.
At the entrance of Meiji Shrine stand majestic gates of about forty feet tall. That symbolize the sacredness of the place. Then washing of hands, again symbolic gesture of purity. Inside shrine, further, there is one heavenly inner garden, called Iris Garden, where more than hundred species of irises bloom. It is believed that Emperor Meiji himself planned Iris Garden for his wife. There is one Treasure house, sort of museum, exhibiting portraits and  items used by Japanese emperors. There are few other buildings in the Meiji Shrine complex, that are used for various events and celebrations. I was told that on new year day the Meiji Shrine and Yoyogi garden remains packed with more than a million people.
Meiji Shrine is very popular for traditional Japanese weddings. I was delighted watching one such wedding. Such a pretty sight. I enjoy learning about other cultures so I remained there till the last ritual of wedding performed and truly relished each moment.
Unparalleled beauty of Meiji Shrine combined with tranquil atmosphere make it the most visited shrine of Tokyo. Shrine is very accessible from Yoyogi station
Visiting Sensoji Buddhist temple in Asakusa, was a deep spiritual experience for me. Entrance through a beautiful outer thunder gate leads to a colourful shopping street selling traditional Japanese items, souvenirs and local delicacies. It is said that shopping street called as Nakamise exists there for centuries. Shopping street culminates in main gate of temple. Then appears the imposing pagoda. Lot of ceremonies were taking place inside the temple. I participated in each of those. While performing some rituals, I felt like being in typical Hindu temple of India. Must say my Buddhist temple experience in Tokyo was different than other Buddhist temples I had visited in other countries.
So this was my feel of Tokyo beyond technology.