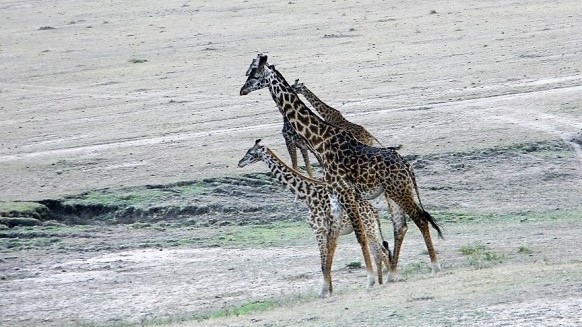 The moment I saw giraffes in Masai Mara, Kenya, I kept gazing at them. Their swanky walk took my heart away. This fond experience reminded me of my earlier overwhelming memory of giraffe in South Africa.
Long back I told a pretty tale of giraffes titled 'Nudging Giraffe' narrating my moments with giraffes in South Africa. Hereby I share extracts from my earlier sweet post.
"Nudging. That too the tallest animal on earth. Giraffe. Giraffe's legs alone are estimated at around 6 ft tall. Well that could be taller than many humans around. Then add his body and neck length, that comes at 20 ft approximately, for adult giraffe. Wow. So how come I even thought of nudging very tall handsome giraffe. And me a tiny person in front of him. Even I have no idea what prompted me to do it. Perhaps I got crazy watching lots of giraffes lazing around and chewing leaves all the time. They were so snazzy that anyone would have fallen for them
This all happened when I took a tour to Pilanesberg National Park, one of the largest wildlife parks in South Africa. Pilanesberg National Park is around two hours drive from Johannesburg.
I saw hordes of elephants, Hippos, Leopards and Rhinos. But I was fascinated by giraffes more. Had an urge to touch him, nudge him. I expressed my desire to game drive guide. Guide did not assure me on this, just told me that he will try.  And my wish got fulfilled when my  guide quietly took the safari near herd of giraffes busy in plucking leaves. I stood in safari and lovingly nudged giraffe. To my amazement, he shook his head as if showing his approval. That look of giraffe made my day."
In my earlier post on giraffes, my emotions ruled. And in this post my incredible photographs of giraffes rule. In this post I share the pictorial spectacle of giraffes which I captured in my photography in Masai Mara wildlife reserve, in Kenya. They way they mingled. The way they chewed leaves. The way they colored the Masai landscape. Hard to describe in words, only my photographs can depict that feel.
I hope my capture of spectacle of giraffes made you grin and wanting for more.