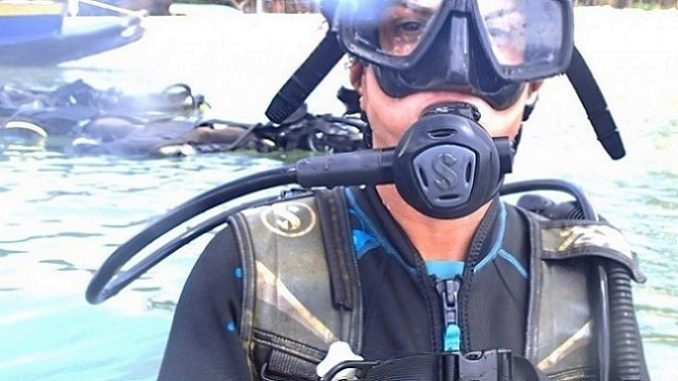 As part of my undersea exploratory activities, I had earlier experienced snorkelling in Great Barrier Reef, Australia and sea walk in Pattaya, Thailand. Scuba diving was in the waiting list, until I made a trip to Andaman Islands in India, my home country.
Situated in bay of Bengal, Andaman Islands have vast, and among the best, coral varieties, found anywhere on the planet. And diving is the best way to explore undersea life of Andamans.
I had been planning to get a feel of undersea world through diving, for quite some time. I had researched and collected extensive information on certified scuba diving agencies operating in Andamans. The only thing now left was to choose one of those. I enquired from local sources and finalized Barefoot Scuba at PADI  Resort. They had extra diver ready in case some emergency arose and I needed to be rescued. Besides, they had medical kit ready along with a trained professional expert in such eventualities.
First, I underwent training sessions. The diving cylinder providing breathing gas was quite heavy weighing around 15 kg. I had to absolutely feel comfortable in carrying that heavy cylinder on my back, under sea. Plus the right breathing techniques and undersea hand signals all were to be followed strictly. Every step had to be mastered by me before I took my plunge. Even a slight confusion could have been life threatening. Above ground I do take moderate risks. But undersea, I blindly followed my instructor's cautions as I was not a trained diver, yet.
At last, all ready with my heady training and backup plan, I dived into sea along with my instructor.  Entered a different world with hundreds of beautiful fishes dancing around and me, like a large fish in between, reveling with them. Then cruising through amazing corals, feeling them leaving bubbles around in joy.
Such a feel and sense of joy, I was not, at all ready, to leave my  new found fascinating world, far away from earth. My instructor noticed my enthusiasm. He okayed by siganlling and directed me into deep sea. But there had to be a stop on my diving spree, till next time.