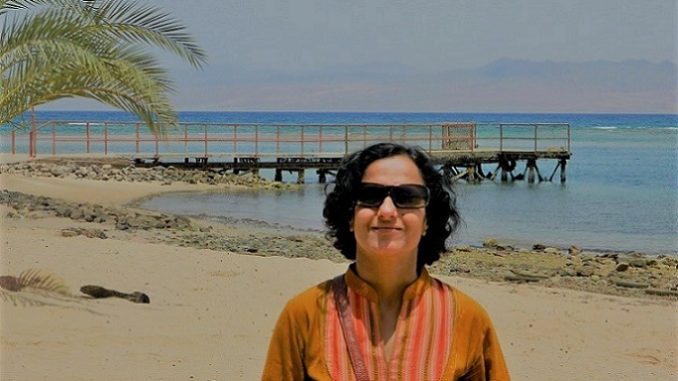 Golden Sinai desert. Mystical Sinai mountains in the backdrop. Turquoise blue sea waters. Pristine beaches. A perfect setting for relaxation amidst tranquil surroundings. This is my destination Red Sea in Egypt.
I have been to numerous famous beaches worldwide. Enjoyed to the fullest, everywhere. Felt pampered and indulgent. But the beaches at Red Sea I found different. Alluring Red Sea, in fact, I say.
Rustic surroundings with crystal clear water add magic to the vast Red Sea coastline. There is fragrance of desert to inhale and experience. Above that wide range of coral reefs, offers lot to explore under water.
In fact Red Sea shoreline is full of high end luxury resorts. Sharm El Sheikh resort is the most popular one among luxury resorts. Red Sea resorts along gulf of Aqaba and Sinai peninsula offer lot to spoil our senses. Many seaside resorts are precisely, resort cities. Sprawling beaches lined up with sun shades and all sorts of water activities to quench your thirst for fun.There are diving sites, snorkelling sites and sea cruising. Then there are shopping centres and alive nightlife with a splash of luxury to make you indulgent.
During my previous beach fun activities across globe, I used to be all the time in water as if I belonged to water and nothing but sea water.  Like a fish playing with sea water for hours and still not enough. But my preference at Red Sea resort was all about sun, sand and sea. Just lazing around at quiet beach, soaking up sun,  amid shimmering sand but dressed in full to save my body in the heat of desert.  Beyond any hustle bustle, nourishing my eyes with panoramic beauty around and feel at peace, within. Getting bit spiritual in serene environment, perhaps.