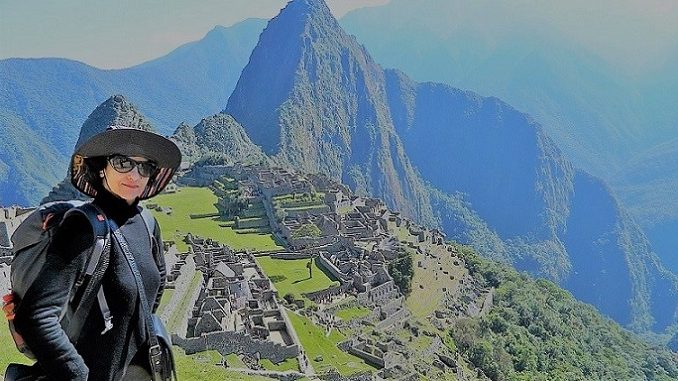 My long cherished desire fulfilled as I gazed in amazement at the massive Machu Picchu, one of the 7 Wonders of the World.
An Incan citadel set at 2430 meters high in Andes mountain range of Peru, Machu Picchu is spectacular. Machu Picchu symbolizes power and inventiveness of Inca empire. Machu Picchu is archaeological wonder, too. Constructed without any use of mortar or tools, still stones fitted so tightly that even a paper cannot be placed in joint.
Due to the great archaeological significance, Machu Picchu was listed as UNESCO World Heritage Site in 1983. And in 2007 Machu Picchu got the distinction as one of the New Seven Wonders of the World. And one of the must visits in my list of global travels that materialized recently during my visit to Peru in South America.

In fact describing Machu Picchu as ruin is not fully correct. Machu Picchu has not fallen, it conserves its major portion of construction in its original form, even today.
Built in 15th century Machu Picchu citadel is the most innovative creation of Inca empire. One of the most advanced urban planning of ancient era. And worship of sun by Incas is the main factor that Machu Picchu was constructed at such high elevation so that they could remain closer to sun, their supreme god, in sky.
Fabulously built Machu Picchu site comprises of many monuments, temples, royal tombs, plazas, storing houses, platforms, canals and stairways. Each construction at site holds specific purpose which comprised administrative, religious, social and astronomical value. Below are few pictorial representations of Machu Picchu citadel through my lens.

There are many theories about the legend of Machu Picchu citadel. Machu Picchu words come from ethnic Quechua group. Machu means old and Picchu means mountain. Thus Machu Picchu stands for old mountain.
Machu Picchu came to attention after American historian Hiram Bingham's findings. Hiram understood the historical value of discovered citadel ruins and contacted Yale University. He requested the National Geographic Society and the Peruvian government for funds to do studies on Inca site. Subsequently archaeological work was carried out. In year 2013 Machu Picchu was revealed to the world when National Geographic magazine published extensive article on Machu Picchu.
Machu Picchu is a protected area due to its immense heritage value. The surrounding areas of citadel are conserved for its rich biodiversity. Several unique species of flora and fauna are found in this region.
These days there are multiple options to reach Machu Picchu citadel from Cusco, the base point for Machu Picchu tours and treks. If not into trekking then train journey and bus journey could be undertaken. I did two days tour from Cusco to Machu Piccu that comprised scenic journey in Peru Rail Expedition train and hike through sub tropical, densejungle. Early morning at four I started my solo hike from Aguas Calientes and reached Machu Picchu citadel to witness incredible sunrise. My English speaking guide was waiting at the entrance. And then commenced the exploration of the iconic ruins which took more than two hours.
To sum up I just say that mode of travel to the historic site may be any, Machu Picchu fascinates all.