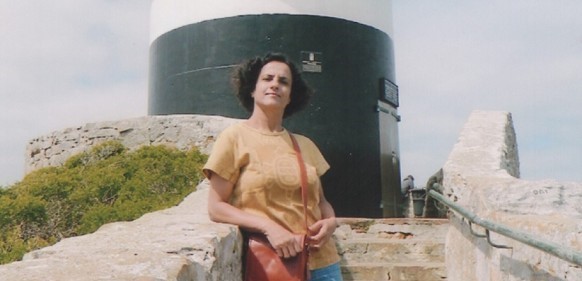 All possessed in the spirit of an explorer, I went on climbing the steps to a craggy unique spot. Looking gleefully at gorgeous whales swirling around in ocean below. I was heading for the iconic light house at Cape Point in South Africa. Set amidst rocky coastline of Cape waters, perched atop the highest section of Cape Point.
I took thrilling ride in Flying Dutchman funicular to reach the upper station of old lighthouse.  Then further climbed steep to get to the top.  "Flying Dutchman" has a mystery to reveal. It is said that crew of a sailing vessel called Flying Dutchman disappeared in stormy Cape waters. And they continue to haunt Cape, till date. This can be felt when mist rolls in Cape Point, as I heard from locals. To be frank I liked the mythical ghost tale. Though ghosts
do not interest me.
The historical light house was built in year 1859. It served as navigation landmark till year 1911. Due to an unfortunate incident wherein a ship crashed below lighthouse, in rocky cape point, this lighthouse was decommissioned. And new light house at much lower height was built. But old light house still captures the imagination of tourists visiting Cape Point.
This was my fascinating trip to Cape Point. Or I say Cape Of Storms. As was nicknamed by sailors, in ancient times. Frequent violent storms, more so in foggy weather, created havoc in Cape waters and do so even now.
But I will always remember Cape Point for the great vistas it offered. My eyes were feasting on the two vivid color tones of ocean.  That beautiful view was due to the confluence of Atlantic Ocean and Indian Ocean.
Cape Point is approachable from Cape Town. You can hire taxi or you can join a Cape Point tour. Of course joining tour is cheaper.