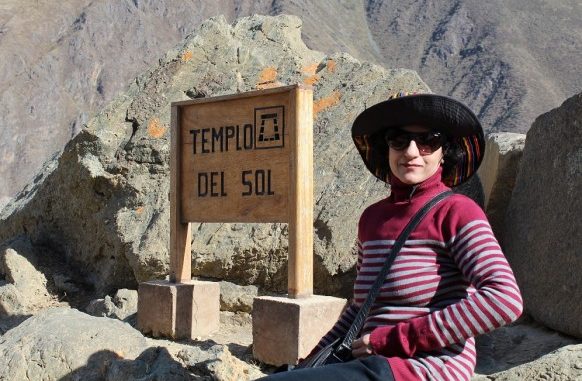 Sacred Valley, a pious name with pious feel. Nestled amid natural settings with stunning vistas, Sacred Valley fully justifies its name. Incas being the nature worshipers appropriately named the region as sacred. They built many ceremonial centers in Sacred Valley with Sun temples the most prominent ones.
Spread over several kilometers in Andean highlands of Peru, Sacred Valley was chosen by Incas as their empire. With Ururamba river flowing majestically, green pastures and comfortable altitude of Andes mountain range, this region must have been the obvious choice of Incas. Presently, the ruins of Ollantayambo and Pisac are the travelers' delight to explore in Sacred Valley.
In this post I am depicting the archaeological site of Ollantaytambo in Sacred Valley. This site was a sacred site as well as a fortress in Inca times. Located at an altitude of 9160 ft,This site was built by the Inca Emperor Panchacuti in 15th century.
The moment I reached the Ollantaytambo site, the imposing structure captivated me. An engineering marvel to admire. Though in ruins now, still these structures talk volumes of the technological advancement adopted in construction of this fortress or Temple Hill as popularly known.
Six Monoliths at the Sun temple, on top of Temple Hill, weigh 50 tons each. Carriage of massive blocks for construction remains a mystery. More so when stones had to be quarried from far of distance. Many stories float on the technique being devised by Incas. Even the present day engineers are clueless at the method Incas adopted to build the mammoth structure.The peculiar interlocking, and meticulously joined huge stone blocks, in structures show the excellent craftsmanship of Incas.
After climbing few hundred steps, I gazed around. The town view from above was fantastic. At the top of Temple Hill placement of stone blocks and monoliths reflect that a part of construction was abandoned at some time. But this is not important. Significant part is to appreciate the knowledge and planning and skill Incas demonstrated.
Ollantaytambo ruins of Inca empire are a must visit for every traveler visiting Cusco. Ollantaytambo town is around 70 km away from the city of Cusco. Day tours run from Cusco to Sacred Valley. Tourists can be part of bigger groups with common guide and common transport to reduce costs. Tourists can also have private tour to Inca ruins in Sacred Valley.