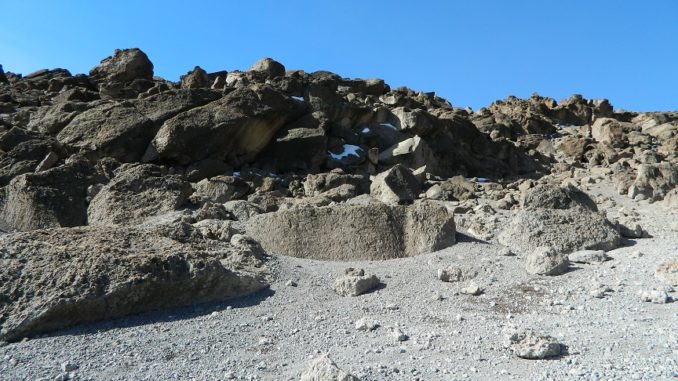 Mt Kilimanjaro, the highest mountain of Africa, is the dormant volcano. Gilman Point is situated at the volcanic crater rim on top of Mt Kilimanjaro. Gilman point is the official recognition of climb to Mt Kilimanjaro. Kilimanjaro National Park authorities issue climbing certificate to successful climber to Gilman Point.
From Gilman Point at an hour's trek, along the rim of crater, there is an elevated point called Uhuru Peak. I walked on diminishing patches of ice cap of shrinking glaciers. It was sunlit morning. Beautiful weather. Suddenly I stopped hearing a voice within me. Telling me that I have accomplished my ultimate feat of climb to Mt Kilimanjaro. I had been unwell so I should not expose my body further. And I should descend back with jubilation and celebrate. I smiled and told my guide about my decision to descend.
But descend to the base camp Kibo Hut was proving to be no less easy than ascend to the top. Steep descend, stepping over huge boulders, further, on loose rolling scree. Balancing my body was proving to be a nightmare. I almost came hurtling down. My toes broke. But did not care. The feel of being at top of Mt Kilimanjaro was far greater than my body hurts. I was thrilled to the core. My heart was singing in joy.
Weary body, dead tired, still I felt like dancing, laughing loudly.
I had been descending for five hours, still long distance to cover. I had been climbing up and down for the last eleven hours. At one point it was like skiing down the mountain. And then my guide took charge. He held my hand and virtually came rolling down. Last part of trail was nearly flat.
But I was all exhausted. Dragging my feet as not able to walk anymore. Had rest then. Energized me with stunning vistas all around. And finally the Kibo Hut base camp in sight. I grinned and paced forward.
The moment I reached base camp my cook served me sumptuous breakfast. But I wanted to eat fruits only so he got plateful of fresh fruits with plenty of sliced mangoes. Delicious seasonal mangoes of Tanzania. I relished lot and while eating recalled my mango binge in India.
Then rested on bed for around thirty minutes and got ready to trek back to Horombo Hut campsite for night. Kibo Hut being at very high altitude, and due to scarcity of resources, climbers are not allowed to spend much time there.
My Kilimanjaro Climb tale continues…….