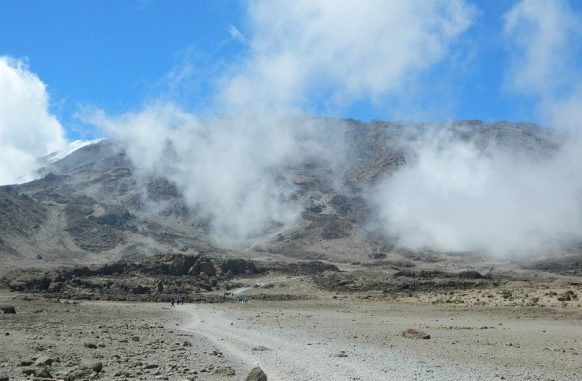 For the last twelve hours I had been continuously climbing up to the top then down to the base camp. Just an hour of rest and again to trek back for five hours to Horombo Hut. Why not stay at Kibo Hut itself? Because Kibo Hut base camp is situated at very high altitude, oxygen level very low, so climbers need to descend back to comfortable zone.
After gulping lots of fruits I set out to move. Very tired yet exuberant. Slowly..Slowly. Or to say in Tanzania way. Pole..Pole.Turning it into a game by counting each step I was taking. And inhaling deep breaths in pristine enormous desert of Kilimanjaro National park. My tired limbs drew strength from serene nature. I was now enjoying my walk forgetting the miles yet to cover.
Reached Horombo Hut in evening. A huge grin on my lips. I dropped myself in bed. Could not snooze as coffee was ready and I had to go to dinning hall. It was early dinner that day as I needed proper rest. Next morning I was feeling good. Though legs and toes were still in bad shape but I was ready for my day's nine hour trek to Marangu gate.
I walked slowly while clicking landscape. In fact I got so hooked on to photography that I did not realize it was late afternoon and I had not taken my lunch yet. When Julius my guide asked me to have lunch as it was 3 pm, I felt hungry. I unpacked my lunch. As I was about to have my first bite of sandwitch I was in for a shock. Julius told me that I had to reach gate in next three hours else gate would be closed at 6 pm. Exiting after that time attracted heavy penalty. And considering the distance to be covered yet, it was supposed to take four hours.
My first reaction was of anger that why did he not tell me so, earlier. I would have controlled my photography binge and would have trekked faster. But now I did not want to waste anytime in arguing. I immediately got up, decided to take bites of sandwich while trekking. I moved at fast pace without any rest. Frequently inquired about time left. When I was about to approach the gate Julius said just five minutes left to six. I pushed my body to its limits and ran like an Olympian. In the meantime Julius received message from organizer that park authorities have agreed to grant extra time without any penalty. He requested me to slow down. I slowed and reached exit with just five minutes delay.
I received overwhelming welcome from organizer and Kilimanjaro park director. I was delighted. Laughed loudly.