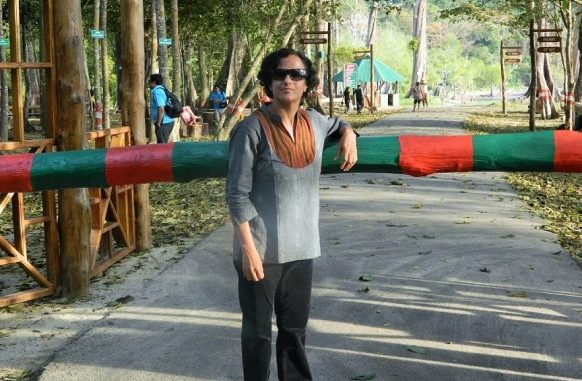 Turquoise blue waters in front of me with low hills in the backdrop. Pretty sea shells scattered all over the beach. Seemed like a painter's imagination.  This was my destination Bird Island. So tranquil, so beautiful.
On the outskirts of Port Blair in Andaman, I was excited exploring Bird Island. Bird Island is the part of Andaman Islands in Bay of Bengal, India. Bird Island is popularly known as Chiriya Tapu in local language.  As name suggests, Bird Island inhabits several bird species. But one thing that lures most tourists, to dash on to this uniquely placed island, is the sunset view. From my experience I would say Bird Island offers the best sunset view.
Traversing along coastline lined up with enormous coconut trees, all laden with coconut fruits. And I was tempted to have few but could not. My van driver told me that special pole and sickle are required to pluck coconut.
My trip to Bird Island, situated at the outskirts of Port Blair, was quite fascinating. Every few kilometers the panorama changed. Open sea to lush green forests then in hilly stretches, diverse nature on my way to Bird Island, rejuvenated me thoroughly.
Rainforest and mangroves with numerous hiking trails pleased me at Bird Island. Though weather was very unpredictable, fortunately it was a clear sky that day. I hiked deep in forest. Crossed tiny wooden walkways laid over rivulets on the route. Spotted  birds and animals. Not any dangerous type though I was forewarned about crocodiles. Then climbed a hilly point. My hikes continued for two hours then I came back for the particular spot called Sunset Point on Bird Island. Sculpted wooden logs placed all along the beach offered enough seating to the travelers.
 And the sunset view at last. Wow moment for me.  At Bird Island sun does not set on open sea rather sets in hilly setting then sinks in sea. Mystical sunset, indeed.
Bird Island is lot more than birds. A must in your Andaman travel itinerary. Hire a cab from Port Blair or be a part of some group.