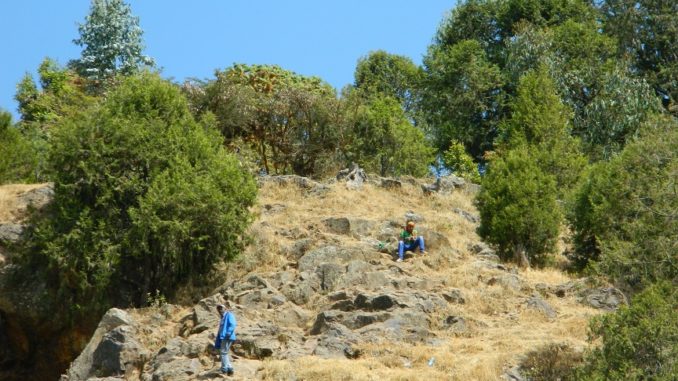 Away from city bustle, now in serenity, I could even feel the rustle of leaves around me. Dense forest of eucalyptus trees filled my nostrils with aromatic air. Remarkable point to notice is eucalyptus sapling was brought by the emperor of Ethiopia from Australia. Sapling was planted in Mount Entoto region which shaped today's lung of Addis Ababa. Weaving my way through criss crossing trails, smiling, crooning. Waving at locals. I was joyous, indeed.
This was my special trip to Mount Entoto, the highest peak in Entoto mountain range, on the outskirts of Addis Ababa in Ethiopia. I call it special because this had spiritual significance, too. Loaded with rich heritage, Mount Entoto offers beautiful vistas of Addis Ababa from top.
My taxi drove through winding road in mountainous stretches. I saw pilgrims walking all the way to church. Some used beautiful handcrafted umbrellas for shade.
As my driver took turn to Maryam Church I got the sight of many pilgrims praying in church compound. They were clad in customary white. Women had covered themselves with white shawls. I saw several women praying with covered faces. Spiritual connect with God, absolutely.
Entrance to magnificent church was through ticket. I paid for the ticket though it appeared bit odd to me. But I must say whole experience was grand. Besides church entry that ticket facilitated my entry to historical palace and museum.
I will share more about the unique palace in my next post…….