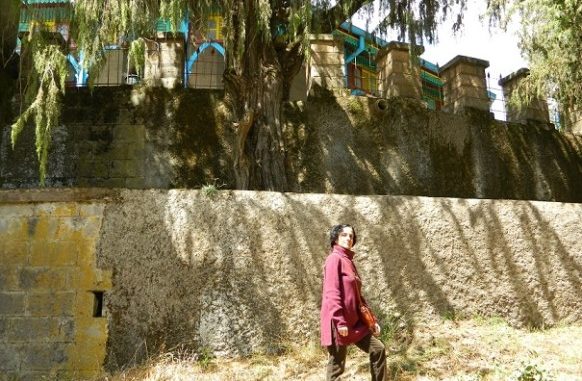 My trip to Mount Entoto comprised scenic hikes alongside church and palace visits.
Maryam Church on Mount Entoto was built by the emperor in year 1889. Emperor of Ethiopia was crowned in this church. Whereas church had a rich ornamented look, the palace of emperor Minilk was a humble sight.
After my spiritual visit to church I headed for the historical palace of emperor Minilk. Adjacent to Maryam Church, at few minutes walk, I entered palace grounds.
As I cast my eyes on palace I gazed in amazement seeing royal abode built of mud with thatched roof. That reflected the simplicity of great Ethiopian Emperor.
I must say that even though made of mud, the palace is in excellent condition. Well planned, spread into several units. Very impressive, indeed. Local guide took me around, block by block. He unlocked each building so that I could have thorough look inside. Palace blocks in round shapes, with high roofs and huge doors, were a delight to watch.
But all buildings of palace were empty as belongings of emperor and empress  were displayed in royal museum.
The way guide narrated the history of palace, it was quite a learning experience to me.
Later, I visited museum which had huge collection of emperor Minilk and his wife Titu's personal belongings. Museum also displayed rare Bible copies.
Mount Entoto is a must visit for every traveler visiting Addis Ababa. You can hire taxi from Addis Ababa. Or do a long hike up to top, if you are into adventure and have plenty of time, of course. Or do a combo as I did, hired taxi and did lot of hiking, too.