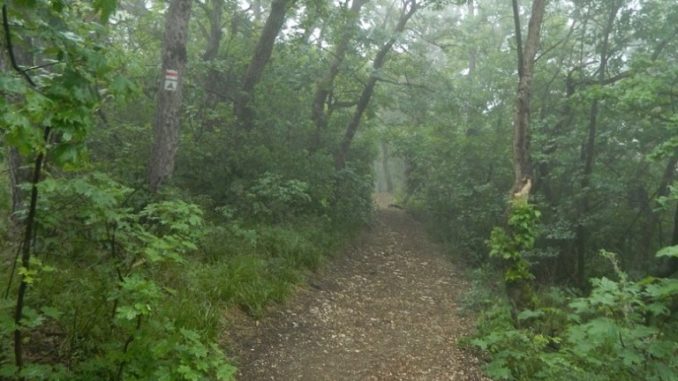 A tranquil morning and overcast sky, with camera in my hand, I set out on a trekking trail, criss-crossing virgin forests of Buda hills.
Buda hills are a low mountain range, comprising of numerous hills on Buda side of Budapest, the capital of Hungary. For my trekking adventure, I chose Janos Hill famous for its imposing Elizabeth Lookout Tower at an height of app 528 mt  and a deer trail among dense forests. It is a popular destination among walkers, trekkers, and mountain bikers.
Good thing was that Budai Sport Hotel, where I stayed, happened to be in the vicinity of  Janos Hill which proved to be an advantage to accomplish my trekking adventure, fully. Janos Hill falls in district XII of Budapest. This is the only district which lies in the hilly suburbs of Budapest and is termed as the lung of Budapest as it covers vast area of green.
Lookout Tower was at a distance of around 3km from my hotel. That was a gradual ascend to the hilltop and then I had the magnificent Tower in front of me.
Further, inside the Tower 3 storeys to climb to reach at the top. And the stunning panorama, from up there, made me motionless and I forgot to capture those images in my camera . Eventually, I came out of my oblivion and started clicking.
After exploring interiors and exteriors of the Tower, I ventured into deer trail. I did not spot any deer, but the aroma of the fresh air, I was breathing in, cheered me and made up for my slight disappointment of not spotting a deer.
Before concluding my post, I have to share an instance with you. While I was trekking, I came to know that the Tower entrance would open after 8am. It was 7am and I decided to continue my trek, anyway. Last stretch was very isolated but a journalist inside me was never worried.
I reached at the gate, looked around the Tower to explore the entry inside. Nearby, I saw a person busy in repairs. I approached him and told him that I was a journalist and requested him to facilitate my entry inside the Tower, if at all possible, at that time. He did not understand English but, certainly, he got my point and nodded. He went inside, talked to someone then directed me to enter the Tower and climb the staircase. All conversation between us was in, sort of, symbolic gestures. If it had not been a strong willed person like me with journalistic skills, none other woman would have thought of entering the Tower, at that point of time .