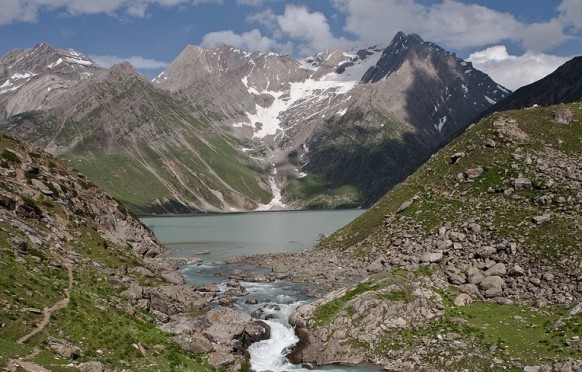 Eternal Shiva takes the form of Ice Lingam for a brief period of July and August months, every year, in Amarnath cave, Kashmir. And blessed are those who get the sight of Ice Lingam in holy cave.
Sheshnag encampment is the night halt for pilgrims on the trekking route to Amarnath cave. Sheshnag derives its name from seven peaks of the mountain resembling the heads of mystical snake as described in Hindu mythology.
I got up early in the morning and came out of my tent. As I looked around I saw nature in its purest form. Panorama of Sheshnag mountain with Sheshnag lake was so majestic that I kept gazing oblivious of the strong chill biting me in the open. At that moment I experienced a tranquil mind in me, beyond all worldly desires.
After having fulfilling breakfast, I started for Panchtarni, my destination for next night halt. For around 5 km it was very steep ascend touching an elevation of around 14,000 ft at Mahagunas Pass. Due to low oxygen level the shortness of breath tends to hamper movement. But slow pace, deep breath and liberal dose of glucose kept me moving. Then the equally steep descend that stabilized the breath. Though legs ached more while descending but other parts of body felt relaxed
Panchtarni is nestled at 12,000 ft. Its name comes from five streams adorning green meadows. Lush green settings were very energizing. But harsh cold winds proved hard on those pilgrims who did not cover themselves in sufficient warm layers. My reliance was on my windproof jacket with additional inner woollen layers on my body. Further, the oxygen deficiency at high altitude made many people sick. They were treated in medical facility there.
When I reached Panchtarni, my body was all shaken due to last two days arduous trek at high elevation. But the solace was that Amarnath  cave from Panchtarni was just three hours trek. That feeling infused me with well needed strength for final lap of trek.
My Amarnath yatra continues….