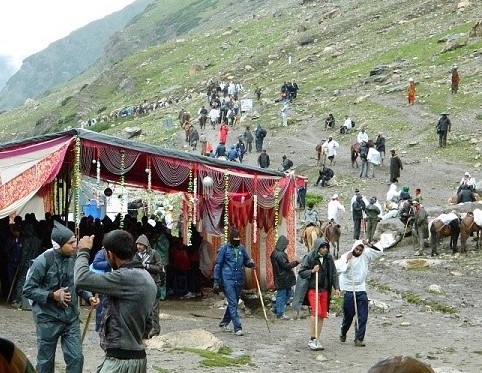 Commencement of my spiritual journey to holy cave Amarnath in Kashmir. Here eternal God Shiva takes the form of Ice Lingam
Humid weather of Delhi left behind and Kashmir chill enveloped me as soon as I arrived in Srinagar. From Srinagar airport I took taxi for Nunwan yatri camp.
Environment at the camp was deep spiritual. Next day early morning depart for the holy cave. Trek took place at Chandanwari. That was around 20 km and plenty of transport was available to reach there. From there onwards no road transport as further whole route is
trekking path. Though horses and palki(palanquin)were available for the pilgrims who could not trek. But I am a trekker so I started ascending.
Second day's halt was at Sheshnag camp. Cloudy weather and suddenly the downpour. Trek route got slippery and bothersome. But that did not dampen the spirit of pilgrims.
The atmosphere was euphoric with Shiva chants. To take care of pilgrims there were many langar(food served free of cost) along the route. Variety of nutritious vegetarian food, snacks, hot drinks, all available. Everything the pilgrims needed, they had it, absolutely. And that too without paying for the premium services on such high altitude.
Around midway to Sheshnag trek was tough due to steep ascend. And got tougher because of high elevation. Low oxygen level. Every step appeared to be heavy with shortness of breath. There were lot of medical arrangements. But my mantra was slow and short steps coupled with deep breathing. And this worked wonder.
Body tiring trek but one glimpse of encampment with Himalayas in the backdrop brought smile on my face. Energized I paced towards camp site set amidst stunning vistas. Further the delicious hot food served in langer boosted my tiring body. I paid my gratitude
for the great service they rendered to pilgrims. And went in deep slumber with serenity surround me.
My Amarnath yatra continues….