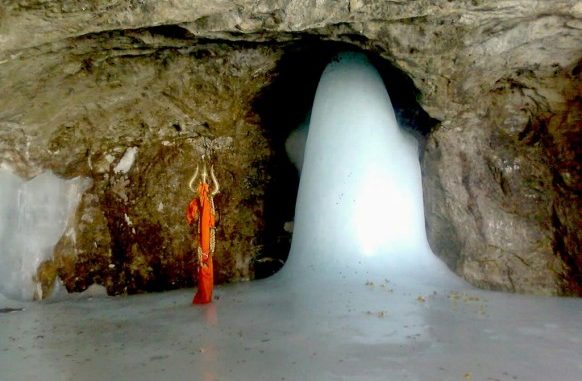 Divine chants got louder as pilgrims neared holy cave. It seemed even the rivulets and waterfall chanted Shiva. May be I was visioning as my mind was so engrossed in spiritual aura. I was beaming with the thought of my being up close to Ice Lingam Shiva.
As I closed in to cave entrance, I was bewildered seeing exceptionally long queues which appeared endless to me. I surrendered to Shiva pleading to bless me and got convinced that all will be well. No matter how many hours it will take but I will be in Amaranth cave to get the sight of Ice Lingam Shiva.
During long waiting hours my mind kept meditating on Shiva amidst loud spiritual singing and Shiva chanting by pilgrims. The atmosphere got euphoric while entering cave.
The sacred sight of Ice Lingam overwhelmed me with emotions. I felt Shiva touched and blessed my soul. I was in tears.
As I turned my head after praying before Ice Lingam, I saw two mythical pigeons in cave. I smiled watching both sitting in silence as if in deep meditation. I had heard lot about their blissful presence and I felt happy seeing those white pigeons merging with white Ice Lingam. It is said that pigeon pair were immortalized as they had heard God Shiva narrating the Amar Katha(secret of immortality) to Goddess Parvati.
While coming back from holy cave I recalled Swami Vivekanand's mystical experience in front of Ice Lingam Shiva. In year 1898, Swami Vivekanand visited Amarnath cave. Later he described that Shiva had appeared before him in Amarnath cave.
I started my trek from Pahalgam side but trekked back to Baltal side as I wanted to explore both routes. Baltal is shorter route of around 14 km but very steep. I was told that in clear weather I could reach Baltal same day. And it truly happened so. Before dark I reached Baltal.
The heavenly sight of Ice Lingam left an everlasting spiritual impression on me. It was my visit to Amarnath cave that propelled me to go to Mt Kailash, the eternal abode of Shiva. And within few months I had undertaken my ultimate spiritual journey of lifetime to Kailash Mansaroar in Tibet .