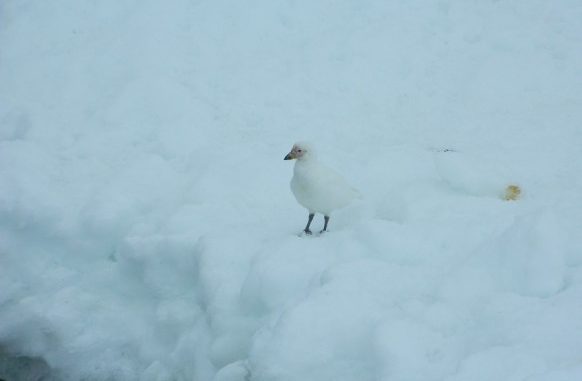 White continent Antarctica. Snow white panorama and snow white bird. Absolute stunner. Merging in Antarctica landscape, she was Snow Petrel. The most beautiful bird of continent Antarctica I saw during my expedition.
Birds made Antarctica lively. I saw them soaring in sky. I saw them occupying rocks. I saw them ashore. Wherever they were seen, they added color and life in surroundings, with their presence.
Largest bird I noticed dominating Antarctic skies had been albatross, undoubtedly. They have mastered stormy seas of Antarctica peninsula. I saw many fly around fearlessly while crossing Drake Passage, too. There are even mythical tales attached to albatross.
Among pretty birds, I would count kelp gull also. I found her sitting gorgeously atop a rock. Her charm tempted everyone. Even lazy seal switched his side to stare at her. He was the beholder of her beauty, indeed. But the bird showed indifference to the seal and looked other side. I stood there watching all and smiled at both.
There are many species of birds which live and breed in Antarctica. Notably, albatross, petrel, skua, kelp gull, snowy sheathbill, Antarctica shag. And I was able to see all prominent birds of Antarctica.
Playing mischievous were skua birds. They were seen on almost all the islands where penguins were breeding. They scared sweet penguins with their presence around. Skuas would take away unattended penguin eggs and chicks. And I felt bad seeing that.
Lastly, not to forget the penguin, the spirit of Antarctica. Though penguin doesn't fly but he comes under the category of flightless bird.
I have wrote lot on penguins in my Antarctica tales. So in this story I talked more about flying birds.
MY ANTARCTIC ODYSSEY continues ….