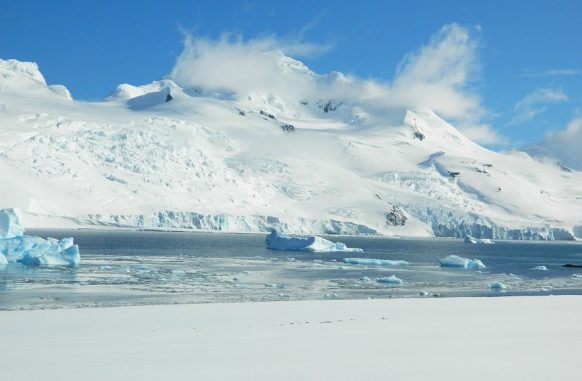 Blue sky. Blue waters. Snowy white backdrop. My eyes were feasting on the splendour of continent Antarctica.
A rugged rock with lone penguin resting on top, emerged like a beauty spot on the sublime face of Antarctica. I was overwhelmed with the feel. I was gaping in sheer astonishment, at the unique creation of nature, muttering 'Vistas To Behold.'
Outstanding views with craggy outcrops, in different hues and shapes, looked fascinating. More so with hordes of Chinstrap penguins breeding around rocky formations. Rocky slabs covered in colorful lichen and moss added new dimension in pretty surroundings.
Pretty name and prettier the scenery. This was my visit to Half Moon Island in the Antarctic Peninsula.
Half Moon, I wondered! I looked around to see what resembled like moon there. Was the name attributed to cobbled beaches on the island? Or was it snowy panorama, giving an illusion of moon, thus, inspired the name of island? Yes it could be, I tried to convince me and moved forward to grasp fully the surroundings around.
I did not find right answer for the description of the name Half Moon but I noticed that Half Moon Island was the only island, during my visits on shores of Antarctica, where I found moss growth amongst rocky outcrops. And Chinstrap penguins were very pleased nesting on these rocks.
Another unique thing that struck me at Half Moon Island was the presence of almost all Antarctic bird species on this island. And they mingled well with each other except scheming birds skuas who were spotted gulping down penguins' eggs. Penguins had hard time safeguarding their eggs and little chicks from skuas. I felt so bad witnessing this. Was that the show of strength? Or was that the lack of empathy for penguins that skuas demonstrated? I was getting philosophical.
Other than birds even most of Antarctic seal species were sighted on Half Moon Island. I saw many seals lazing around on raised beaches.
As I ventured further I saw Argentine base Camara looking beautiful in the picturesque settings of Half Moon Island. This is summer station of Argentina to carry out various scientific activities in Antarctica.
I spent lot of time on Half Moon Island clicking my shots from different angles. Also captured my ship which merged well in bluish backdrop of the glaciated mountains of nearby Livingston Island.
This was my landscape portrayal of Half Moon Island in Antarctica.
While I was cherishing spectacular scenery suddenly a deafening roar jolted me. 
Thunderous sound. I stood still. Not able to comprehend what happened. And then a deafening roar. What I encountered at a little distance was just unbelievable, yet true. That was the iceberg smash in front of me. Within seconds a monumental iceberg came crashing down. I was bewildered watching the whole event. I saw huge ice blocks breaking off the iceberg
During my expedition in continent Antarctica I witnessed huge blocks of ice breaking off at many places in different islands. Such ice break is known as calving effect. There were calving of glacier, iceberg, ice shelves, ice fronts and crevasses, all happened in front of me. Many calving sights created fascinating views which I sealed in my camera.
In continent Antarctica there are various reasons that influence ice disruption on regular basis. Seismic event is a major factor in causing ice calving. Calving can also be due to a rift in ice shelves or melting of ice fronts near waterline.
When ice calving in glacier occurs in Antarctica the impact is so powerful that countless icebergs originate from it. Glacier calving also creates mammoth waves spreading over miles and often cause destruction. Sometime nearby islands get severely affected due to glacier crash.
Global warming also has an adverse affect that can cause melting of ice front at water line. I noticed excessive ice melting at some islands and that was worrisome for me. There are so many studies and researches being conducted by scientists in Antarctica. Scientific data of such studies will assist in finding ways to control the further melting of ice in continent Antarctica. This is one of the reason that there are strict laws under Antarctic treaty that limit the number of travelers visiting the fragile continent.
MY ANTARCTICA ODYSSEY continues ….