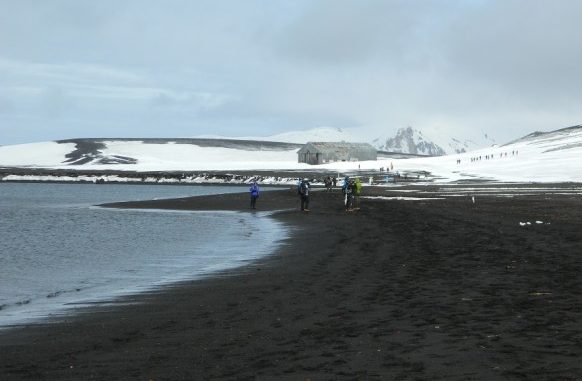 Ash layered glaciers and ash layered beaches. Awe inspiring splendour of black and white. Intertwined patterns. Again a charisma of nature I witnessed in mighty Antarctica.
This is the volcanic Antarctica all visible in serene black and dazzling white. Intricately laid as if woven by some master craftsman. A landscape that put me in its trance. Just magical.
Structures of damaged scientific bases lying scattered in black and white panorama.
One kayak looks stunning in black and white vistas.
My ship looked like a beautiful play toy in great setting of blue sky and blue waters with black and white backdrop
People hiking at crater appeared as an integral part of black and white scenery.
And not to forget the spirit of Antarctica, the adorable penguins. Having all the fun at blackish beach with snowy white glaciers, cute penguins in black and white bodies fully merged in black and white surrounding.
Deceptive Indeed 
Antarctica, the continent of extremes. The continent with the purest of nature. The continent with the deadly isolation. The continent with towering mountains. The continent with freezing temperatures. And the continent with active volcanoes.
This is my visit to Deception Island in Antarctica. An island made of sea filled caldera of an active volcano. One side black and white beauty to behold but other side I witnessed volcano fury.  I saw rusting tanks and boilers. I saw remains of structures. Those were the testimony to all the destruction that took place in volcanic eruptions on Deception Island.
A long hike was planned across the island. Ascending a slippery mountain peak with stones rolling all over. Walking a dangerous trail with volcanic crater on one side. Then a sudden change of weather and I was about to be swept away by storm. Maintaining my balance and keeping me rooted to the ground was uphill task. Though it gave me few anxious moments but I thoroughly enjoyed the thrilling hike.
Deception Island is a natural and safe harbour. This is the only harbour in whole world where ship can directly sail in active volcano.
Deception Island is also known as Whalers Bay used for whaling activities in earlier times and used as base for whaling ships. Later island was used as scientific base by different countries but all were damaged in volcanic eruption of year 1969.
Deception Island is an active volcano with latest eruption in year 1970. The eruption was so fierce that ash fall was seen by research stations situated in far flung islands. Though heavy plume was recorded in year 1987 also but eruption was not confirmed during surveys. Even in year 1991 high seismic activity in Deception  Island was confirmed by scientists.
True to its name Deception Island is deceptive indeed where fire plays with ice. And creates havoc when erupts.
Curiosity of Deception Island makes it a very popular destination among travelers to Antarctica.
MY ANTARCTICA ODYSSEY continues ….