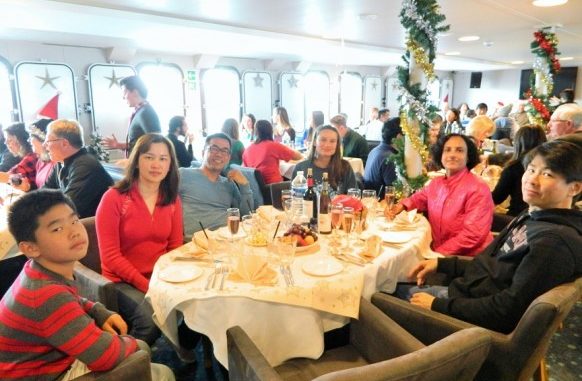 Christmas time. My ship was all in celebration mood decorated with several types of Christmas ornamentation.
I came to know that hotel team of ship had prepared a gala dinner. I was very excited. As I approached dining hall entrance I received champagne. Smiling faces of hotel team were so welcoming. Dining hall was laid in Christmas decoratives with Santa caps and other items.
There was a lavish spread on tables. Wine bottles, red wine and white wine, on all tables. With special starters, whole Christmas menu was awesome. Though food on board was always delicious but Christmas dinner was par excellence.
Usually I just take little champagne and rarely take wine. But I was so joyous being in Antarctica and celebrating there that I exceeded my quota of wine and took red wine and white wine both, along with champagne.
After dinner Christmas celebrations continued in lounge bar. A plan of secret Santa was devised. All travelers contributed gifts which were mixed in a sack and later  to be handed out one present each to all. Suddenly an announcement was heard 'pod of Orcas..' Me and everyone present in lounge rushed out on decks to watch the family pod of killer whale also known as Orca.  Watching killer whale, the top predator of marine life and an embodiment of strength and grace, was a special moment, indeed. I considered this the best Christmas gift for me and for my fellow travelers.
Back to bar, everyone exuberant, gossip time, drink time, fun time and the clicking time which went past midnight. Not to forget the secret gift everyone got.  There was delicious pudding lying on bar counter for each one but didn't interest all. Of course I had mine and there were few more like me who took their share of pudding. Others were more into drinks
Next day each traveler received beautiful gift pack from ship hotel, loaded with chocolate in shape of Christmas tree.
I captured Christmas moments with my fellow travelers also my dear friends. We had lot of fun time together. This was my celebration aboard etched in my sweet memories, forever.
MY ANTARCTICA ODYSSEY continues ….