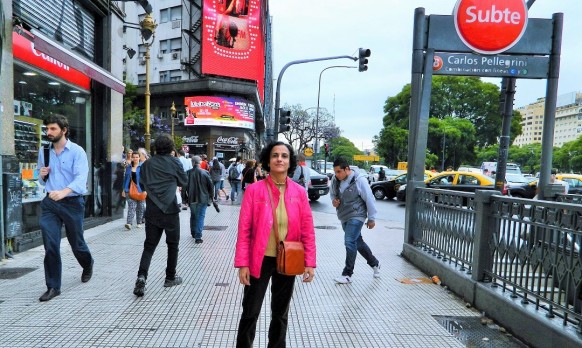 Crazy soccer. While in Buenos Aires, the thriving capital of Argentina, I did not find a single TV screen where I could watch anything except soccer match. Rightly so, football is called the true religion of Argentina. Much like in India, my home country, where emotions run high for cricket. And cricket is dubbed as the real religion of India.
Other than soccer if I could catch something, very significant, in the city that was tango. I came across several grand theaters staging tango performances. And if you are interested in learning or perfecting your tango moves then there are plenty of training centers.
Tango was everywhere. Not only live performances, even decorative items and souvenirs were adorned with sensuous images of tango dance. So pretty were the images that I couldn't resist and bought few.
World famed tango dance is seductive in feel. So much so that I heard tango being termed as 'making love in vertical.' I had seen tango performance, earlier, and thoroughly enjoyed that.
But now I opted to go beyond soccer and tango, in Buenos Aires. I thought of  exploring the city on foot and at my pace. That was the best way for a possessed walker like me.  Moreover, that was spring time. Though windy but very pleasant weather, that added to my delight. I knew I was in for a great fun.
I walked through city centre admiring the ancient monuments and modern architecture. I further combined my walking with hop on hop off tour and that way I experienced the grandeur of Buenos Aires, fully. Sitting in open, relishing drizzle over head with few drops tricking down my face, I had an exhilarating experience.
I was fully absorbed in the city landscape while crossing through city landmarks and green lungs of Buenos Aires.
My feelings of enchantment, I lived with in Argentine culture, mirrored in my smile.