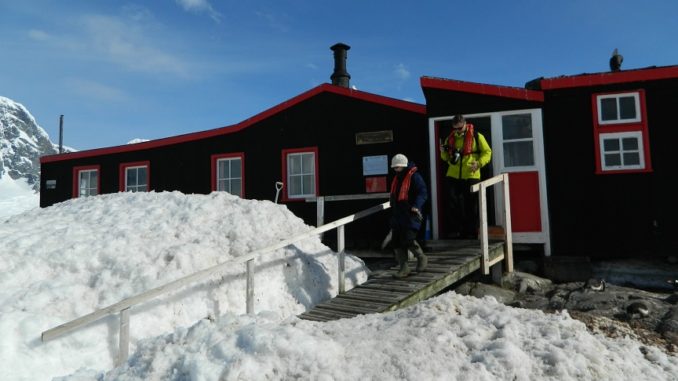 Icy landscape, freezing cold sea and snowy islands surrounded by towering mountains, this is our white continent Antarctica. An amalgam of unparalleled beauty and extreme isolation. A continent fit for scientific discoveries but unfit for habitation. No human settlement, just research base to talk about. And penguins, of course everywhere, as Antarctica is the land of penguins.
In such a scenario, when I heard of post office in Antarctica, I sprang with surprise. During evening recap session when expedition leader talked about post office in Port Lockroy, run by United Kingdom Antarctic Heritage Trust, that was hard to believe. More so when I knew that post office is operational. Truly a fascinating feel.
While visiting Port Lockroy on Gaudier Island, I got the opportunity to walk into the unique post office which is located in Bransfield House. So excited to witness the farthest post office on earth. Appropriately named Penguin Post Office, this was a rare sight, one and only of its kind. And I was quick to seal it in my camera. Though I did not post a card but I was more delighted when I captured sentiments of my fellow traveler dropping card in post box.
Penguin Post Office in Antarctica holds great emotional value than a practical purpose to serve. This is operational in Antarctic summer when visitors from all over the world come to Port Lockroy. On an average 70,000 postcards by an estimated 18,000 visitors are posted each year. Mail takes around six weeks to arrive at the destination.
Post office at Port Lockroy is more of a symbolic gesture run by British trust to keep the spirit of Antarctica alive. A significant proportion of the post office revenue is donated for trust's Antarctic activities. Along with post office there is a souvenir shop also, and very popular too, as this is the only place where travelers to Antarctica can indulge in some purchasing. Items were moderately priced. I purchased few magnets to cherish the memories of Antarctica.
I admired the courage of people working for the post office, braving severe climate and frightening silence of Antarctica.
MY ANTARCTICA ODYSSY continues ….