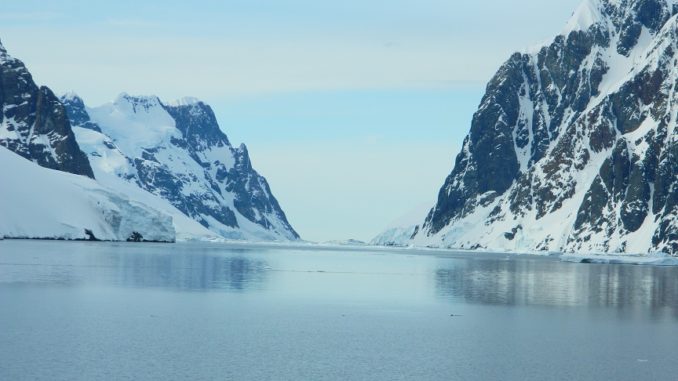 Anxiety reigned. Everyone was out on decks. In full force, with camera shutter open and fingers curious to indulge in clicking spree. Why not? Most famous shot in Antarctica peninsula was about to be sealed behind lenses. But, will that happen? A serious question mark. All this euphoria was witnessed when my ship approached Lemaire Channel.
Lemaire Channel is a very narrow passage but exceptionally photogenic. Thus appropriately nicknamed as Kodak Gap, a darling shot for hungry camera lenses. More so, as the passage can only be experienced once inside it.
Named after Belgian explorer Charles Lemaire, Lemaire Channel is around 11km long flanked by Booth Island and Antarctica peninsula on either sides. Channel runs through glacial steep mountains with enormous cliffs dropping into sea. But, in eventuality of bad weather or icebergs blocking the passage, then ship has to retreat and abandon this route. And, such situation arises very often. Therefore, crossing Lemaire Channel is always shrouded in presumptions.
Tense eyes everywhere. My ship navigates slowly through ice floes. Taking slight turns left or right, ship avoids bigger chunks of ice so that any unpleasant situation does not arise. I analysed camera angles and finally took my position at upper deck. As ship neared to narrow passage, I noticed water was absolutely still like a lake. One other fantastic experience near Lemaire Channel was spotting of whales in abundance, dancing around the ship.
Now ship, in straight position, was ready to enter Lemaire Channel. And right there I was quick to capture my Kodak moment. A sense of thrill as ship passed through. My ship had made it. Everyone including ship crew was jubilant. Back in lounge celebrating the special moment. The suspense over crossing the famous Channel continued for around three hours since evening recap time when expedition leader announced that passing Lemaire Channel was subject to ship captain's judgment.
Again a miracle had happened. In the nick of time weather conditions were permissible and everything went smooth. Next day will be different day in Antarctica, with more stories to tell..
MY ANTARCTICA ODYSSEY continues ….