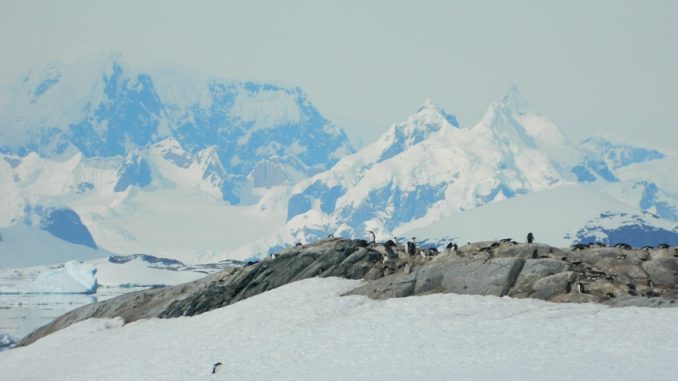 Of all the wild places left on earth, continent Antarctica remains the most challenging. Due to white continent's virgin beauty, unspoiled terrain and extreme isolation, Antarctica is the absolute natural laboratory for scientific researches. A perfect setting for heroic explorations and discoveries.
The euphoria of Antarctica attracts researchers to embrace the hostile conditions of the continent.  The reward they receive is in the form of enriching mankind.  And in their pursuit of discoveries many have lost their lives in the white continent Antarctica. Similar fate engulfed three scientists of British Antarctic Survey, in the year 1982. But their lives had not gone waste. They stood immortalized as their spirit of bravery motivated all, to carry on with more discoveries in Antarctica.
As a memorial to those three scientists, one divine cross stands tall at Peterman Island. As mark of respect, I bowed my  head in front of that monument. They still inspire everyone not to dread Antarctica. I dedicate this story to those scientists.
I have compiled my story based on information I gathered from different sources. Three scientists named John Coll, Ambrose Charles Morgan and Kevin Paul Ockleton, members of British Antarctic Survey, were on their scientific mission in Antarctica. While out from their station, they were presumably caught in terrible weather conditions. They could not get back to their station. All three hiked long distance in search of some refuge. At last they spotted one hut and took shelter in that.
The hut on Petermann Island was built by Argentina in the year 1955. That hut is still there as part of historic monument.  It is said that the refuge hut contained ration and eatables to serve as survival package for those who took shelter. The evidence of stranded scientists staying there was found by rescue team who reached there. Unfortunately scientists could not be rescued as they had left after many days of refuge in hut. Understandably they tried to hike back on sea ice but could not survive.
Beauty in abundance but fragile conditions of the continent make it inhospitable to human life. This extreme attracts explorers to the land of Antarctica. This extreme drew me, too, like a magnet, to be in the lap of Antarctica.
MY ANTARCTICA ODYSSEY continues ….