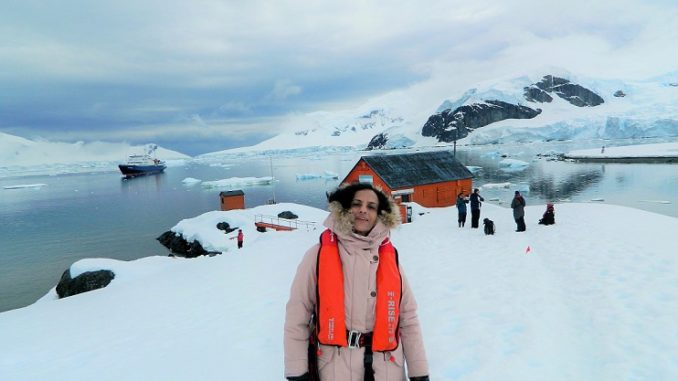 Triumph over mortal danger is a rebirth in true sense, this I experienced during my extreme adventures. I realized that true value of life not apparent until I risked losing it.
And now another extreme, though not of physical endurance. This was my journey to the farthest continent, the mighty Antarctica.
I was euphoric. My heart pounding. Lifetime travel dream to land in Antarctica, which appeared illusive to me, was going to be realized soon. I was about to embark on my ship to my epic journey to Antarctica. I was emotional, considered me fortunate to have that moment. There are so many who dream to make a journey to Antarctica. Only few are able to fulfil their dream. I lovingly glanced at my expedition ship M/V Plancius which will sail me from Ushuaia port to seventh continent. Sturdy ice breaker meant for polar expeditions and equipped with all comforts, that was my ship from Oceanwide Expeditions.
I acquired my cosy room with my roommate Katrina from UK. Warm welcome on board with champagne celebration and introduction of ship captain along with whole crew. Some basic information on seasickness. Useful tips and expert advice from physician. Then the safety instructions. Live alarm drill on evacuation, all passengers with their life jackets on, boarding life boats. Two sturdy life boats, one on each side of the ship, with capacity of 59 each boat, were ready to be used in emergency situation.
My Antarctic expedition was to Antarctic Peninsula and South Shetland Islands. These islands are home to many species of Antarctic penguins, seals and birds. From high mountains, to flats grounds, to volcanic peaks, all could be experienced in South Shetland Islands of Antarctica. And many scientific research stations, too. I was going to explore all, very soon.
Continent Antarctica is regulated by Antarctic Treaty, in force since year 1959. In Antarctica, only expedition ships with capacity between 50 to 200 passengers are permitted to sail. These expedition ships are well suited to navigate in narrow passages and pack ice in the continent. And well insulated to retain heat inside, keeping interiors warm. Moreover, these ships let explorers get up close with wildlife and serene nature of Antarctica, with minimal impact on continent's local environment.
Now my ship was calmly sailing through Beagle channel. But the calmness was to be battered soon..
MY ANTARCTICA ODYSSEY continues ….